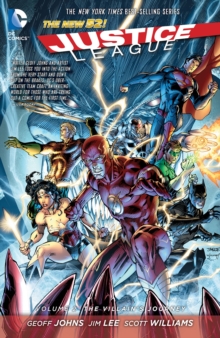 Justice League Volume 2: The Villain's Journey TP (The New 52)
Paperback
Description
A New York Times #1 Bestseller! The Justice League is the greatestforce for good the world has ever seen.
But not everyone sees them that way. Their never-ending battle against evil results in casualties beyond itssuper-powered, costumed combatants.
The League's attempts to safeguard innocentlives cannot save everybody.
Unbeknownst to Earth's greatest champions, theirgreatest triumph may contain the seeds of their greatest defeat.
For heroes arenot the only people who face tragedy and are reborn as something greater thanthey were before.Villains can take this journey, too. And once they start out onthis dark path, the road could lead straight to the destruction of the JusticeLeague!
The New York Times bestselling team of Geoff Johns (GreenLantern) and Jim Lee (Batman: Hush) are joined by artists Gene Ha(Top 10) and Carlos D'Anda (Deathblow) for Justice LeagueVolume 2: The Villain's Journey, collecting issues #7-12 of theseries.
Can the world's greatest super heroes survive a voyage deep into theheart of darkness?
It all ends with one of the most shocking ... and surprisingmoments in DC history!
Information
Format: Paperback
Pages: 176 pages
Publisher: DC Comics
Publication Date: 01/10/2013
Category: Superheroes
ISBN: 9781401237653
Free Home Delivery
on all orders
Pick up orders
from local bookshops
Reviews
Showing 1 - 2 of 2 reviews.
Review by hobreads
16/06/2015
Better than JL volume 1, but still not outstanding yet. Trying to judge it on its own merits (as opposed to comparing it to Pre-New 52), there's too much fighting and conflict with the team. Sure, this is earlier in their rebooted team history, but Green Lantern, for example, comes across as an arrogant tool. If you read his self-named title, his personality is different. Will you like it? 50/50 on that. My best advice if you liked volume 1, then get volume 2. Otherwise... flip a coin.
Review by jshillingford
16/06/2015
I thought the first volume of the New 52 Justice League was a solid start to the series, with a lot of potential. This volume continues to build on that potential but doesn't quite fulfill it. Once again, the artwork is fantastic and calls to mind the JL animated series. In this volume, a new (to me, at least) villain comes onto the scene. He has a personal connection to the team, which is a great way to add urgency to the story. The team will need to confront some inner demons in order to become stronger. Another good tension-builder is Steve Trevor. He was introduced in Vol 1 as the government liaison to the JL. Here his character is given more weight than the pitiable human dumped by Diana. It was a well-executed maneuver that laid the foundation for the much hyped Superman-Wonder Woman relationship. I'm eager to see where the writers go with that since these two characters seem like a perfect match.What I didn't like about this volume was the shoehorning in of Green Arrow as a way to introduce the spin-off series "Justice League of America." He is so desperate to be a member of the JL that he follows them everywhere like a lost puppy. I have no interest in that team, and Arrow's character was just too campy and downright pathetic here. He wasn't funny, he was silly, which is out of sync with the tone already set in JL Vol 1.Overall, this was a good continuation of the series and I will continue it. Highly recommended.