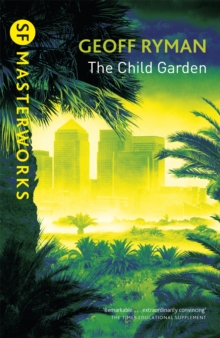 The Child Garden
Paperback
Description
In a semi-tropical London, surrounded by paddy-fields, the people feed off the sun like plants, the young are raised in Child Gardens and educated by viruses, and the Consensus oversees the country, 'treating' non-conformism.
Information, culture, law and politics are biological functions.But Milena is different: she is resistant to viruses and an incredible musician, one of the most extraordinary women of her age.
This is her story and that of her friends, like Lucy the immortal tumour and Joseph the Postman whose mind is an information storehouse for others, and Rolfa, genetically engineered as a Polar Bear, whose beautiful singing voice first awakens Milena to the power of music.
Information
Format: Paperback
Pages: 400 pages
Publisher: Orion Publishing Co
Publication Date: 01/08/2005
Category: Science fiction
ISBN: 9780575076907
Free Home Delivery
on all orders
Pick up orders
from local bookshops
Reviews
Showing 1 - 3 of 3 reviews.
Review by cmjb
16/06/2015
The Child Garden is set in a post climate change London where temperatures have risen to tropical levels. A global mind called The Consensus now runs the world as a "late period socialist" paradise. Children's' minds are Read at age 10 so that they can join The Consensus. Cancer has been eradicated. However, the discovery that cancer served a useful purpose in regenerating human bodies is an unfortunate side effect. Without cancer cells, the human lifespan has shrunk to about 35 years.Viruses make "people cheerful and helpful and honest." Viruses also plant knowledge in people's brains from birth. Viruses control sexual orientation, and homosexuality is reduced to "Bad Grammar." Peoples' skins are purple; they can photosynthesize their own food. This is an essential method for feeding the 23 million people inhabiting London.The book follows the life of Milena, a woman who was resistant to the viruses as a child, and has never been Read. Milena falls in love with a genetically engineered woman called Rolfa. Rolfa is a musical genius and a misfit even among her own people.While I found The Child Garden a bit long, I thought it more than worth the effort. The premise that something that we call bad (cancer) can actually serve a useful purpose hooked me from the start. The alternative world that Ryman creates, with photosynthesizing humans and an educational system made redundant by viruses, is fascinating.
Review by jobbi
16/06/2015
A fantastic and very human adventure. The natural, biological feel really stands out against the usual cold technology of some SF.
Review by HanGerg
16/06/2015
There's certainly a lot to marvel at in this book - viruses that give humans knowlege, telepaths that can weave tapestries of human emotion, living spaceships that can grow any object you can conceive of out of their walls, a London covered in coral and reeds, angels that a free to roam the universe on waves of pure energy... the list could go on and on, as this book is rich with vivid and peculiar details. This can be it's greatest strength, but also a bit of a failing. The author has the habit of introducing a baffling concept and making it a large part of the story, and then only explaining it much later (I think Iain M. Banks learnt that trick from him). So, for example, the main character has no memory of her childhood - something the reader just has accept as part of the internal logic of the story until it is explained quite a long way into the book. There are so many of these "internal logic" elements that reading it can be a confusing experience, especially as some of them are never explained. For example, men can get pregnant and give birth. It is extremely dangerous for both father and baby and it seems that women can still give birth in the usual way, so the reasoning behind this story element feels like it needs explaining, but it never is. At heart the story is a very unconvential love story- between a young woman and a female polar bear (who's bascially a human in a polar bear shaped body, although this is again one of the things that isn't really explained very well). The strand of the story that deals with their relationship and all the reprecussions that it has in the life of the central character is one of the strongest elements of the book, as the author writes very convincingly and movingly about human emotions. Likewise, the parts of the story where the character's childhood are revealed capture very well that intense nostalgia for people and places we will never see again. There are also several allusions to Dante's Divine Comedy that underline the fact that we the reader are in the realms of Proper Literature here, not just a piece of genre sci-fi, and the book is certainly a very enriching experience. Part of me wants to love this book, with all it's fantastical details and it's moving and true-feeling accounts of human life in such an alien world, but ultimately it's a book that I admire more than love. There's just too many strange aspects of life that aren't fully explained, or are only explained after I have puzzled over them so long that it has hindered my understanding of what's going on. I can imagine some people absolutely falling head over heels for it though, so if anything in this review sounds like your cup of tea, I would definately invite you to take a trip to The Child Garden.
Also in the S.F. Masterworks series | View all