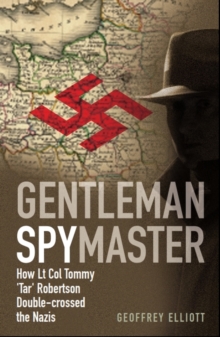 Gentleman Spymaster
Hardback
Description
The biography of Thomas Argyll Robertson who played a key role in Operation Mincemeat (the Second World War operation which suggested that an invasion of Greece was imminent) and masterminded the 1944 Operation Fortitude (which was designed to persuade the Germans that the invasion of France would not take place in Normandy but in Pas de Calais).
Thomas Argyll Robertson, known universally as Tar, joined MI5 in March 1933, recruited by Vernon Kell, the organisation's founder.
He was not formally interviewed for service but was recommended by Kell's son John, Tar's contemporary at Charterhouse.
In the 1930s MI5 was Vernon Kell's personal fiefdom and with the help of his wife Constance, it was run very much as a 'family firm'.
At first glance, Tar Robertson may not appear an inspired choice.
After Charterhouse and Sandhurst he was commissioned into the Seaforth Highlanders but resigned after two years.
He had a spell in the City and somewhat unusually, served in the Birmingham Police Force.
But all of these experiences served him well and as an MI5 officer he made an outstanding contribution to Britain's counter-espionage activities before and during the Second World War. Tar's deft handling of a widely disparate collection of Double Cross agents, among them criminals, drug addicts and drunks, brought some spectacular military advantages for Britain.
The most important by far was Operation Fortitude which fooled the German High Command over the location of the landing of the Allied Invasion Force in June 1944.
In another operation Tar's agents put out masses of false information concerning the hits scored by V1 and V2 rockets which led the Germans to change their target areas which prevented thousands of civilian casualties.
Not only were Tar's agents successful in hundreds of missions, they also proved more than a match for their German counterparts in the Abwehr, who effectiveness was almost totally nullified.
In Gentleman Spymaster, Geoffrey Elliott has captured Tar Robertson's character perfectly.
He was at once determined, discreet and fiercely loyal.
Equally he was ruthless in his handling of those who threatened the Double Cross system.
He was one of Britain's unsung heroes, widely recognised by many of his contemporaries as one of MI5's greatest assets.
This brilliantly researched and perceptive biography clearly shows why.
Information
Format: Hardback
Pages: 332 pages
Publisher: Methuen Publishing Ltd
Publication Date: 01/05/2011
Category: Humamities
ISBN: 9780413777065
Free Home Delivery
on all orders
Pick up orders
from local bookshops