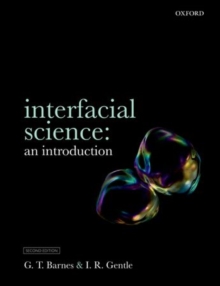 Interfacial Science: An Introduction
Paperback / softback
Description
Interfacial science impacts on our lives in diverse and surprising ways.
Without it, we would face bubble bath without the bubbles, detergents which don't clean, cappuccinos without the froth.
It has also fuelled some of the most ground-breaking and thought-provoking advances in research in recent times, from biosciences to nanotechnology.
Introduction to Interfacial Science offers an engaging insight into the study of the physical and chemical properties ofinterfaces, how they behave, why they behave as they do, and how this behaviour can be harnessed and exploited in novel and exciting ways. Interfacial Science: An Introduction is an accessible text introducing readers to the chemistry of interfaces, a subject of increasing relevance and popularity due to the emergence of nanoscience. Opening with an overview of the key principles of capilliarity and adsorption, the book goes on to explore liquid/gas, solid/gas, and liquid/liquid interfaces, before examining biological interfaces, one of the most stimulating areas of current research.
With the careful explanation of essential mathematical and physical concepts, and description of real world applications of the material presented, the book helps the student to build confidence in, and see the relevance of, the topics covered. Striking a careful balance between the highly mathematical treatments of the subject by more specialist texts, and the rudimentary treatment offered by general physical chemistry texts, Interfacial Science: An Introduction offers a breadth and depth of treatment which is perfect for any advanced undergraduate course on this exciting, dynamic subject. Online Resource Centre The Online Resource Centre to accompany Interfacial Science: An Introduction features the following resources for registered adopters of the text: - Downloadable figures - Solutions manual, containing worked solutions to the exercises appearing in the textbook - Protocols for around five laboratory experiments, appearing as MS Word documents, for lecturers to modify to suit their own particular setups
Information
Format: Paperback / softback
Pages: 352 pages, 166 illustrations
Publisher: Oxford University Press
Publication Date: 03/02/2011
Category: Polymer chemistry
ISBN: 9780199571185
Free Home Delivery
on all orders
Pick up orders
from local bookshops