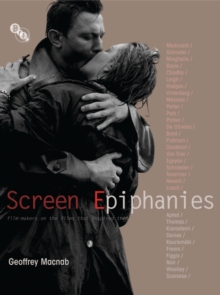 Screen Epiphanies : Filmmakers on the Films That Inspired Them
Hardback
Description
"What I remember was that it was the first time a piece of fiction had had such a devastating emotional effect on me.
A lot of children remember seeing cartoons, Pinocchio or Bambi or something that breaks their heart.
I remember seeing The Blue Angel and it breaking my heart.
It was the first time I realised there was an adult world - that adults could damage each other or destroy each other emotionally.
It might have fed into a whole series of epiphanies about my own upbringing.
I was living in a family where my grandparents had separated in quite complex circumstances.
Perhaps it resonated with some elements of that, to do with simply how love can be a rupturing and damaging emotion as well as a healing one.
Also, to see somebody who is in an authority position made so small, so diminished, by the feeling of having no control." Anthony Minghella / The Blue Angel "In a strange, lethal way, I was suddenly wildly attracted to the process of filmmaking, even though it is described as a nightmare - a matter of horror - in that film.
There is a trancelike atmosphere. Suddenly, I was reminded that you can feel like it's a matter of life and death when you make a film.
It changed from being a mediocre feeling of emptiness in your life to something that feels necessary.
I realised that filmmaking can be many things - and it can be narcotic in a way.
You can become addicted to it." Thomas Vinterberg / Hearts of Darkness Screen Epiphanies brings together 32 leading film-makers to discuss the films that inspired them to pursue a career in the movie business, or which influenced their own film-making practice, or which stayed with them because of their depictions of familiar communities, intense human relationships or unknown worlds. Beautifully illustrated with images from the films discussed, Screen Epiphanies is a thought-provoking and often moving insight into the creative process and the way in which artists are inspired by each other's work, but also into the centrality of cinema in all our lives, and its power to change our ambitions and how we see the world around us.
Free Home Delivery
on all orders
Pick up orders
from local bookshops