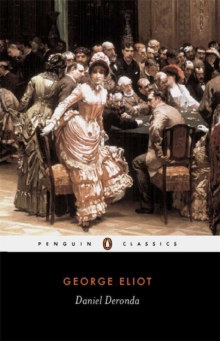 Description
As Daniel Deronda opens, Gwendolen Harleth is poised at the roulette-table, prepared to throw away her family fortune.
She is observed by Daniel Deronda, a young man groomed in the finest tradition of the English upper-classes. And while Gwendolen loses everything and becomes trapped in an oppressive marriage, Deronda's fortunes take a different turn.
After a dramatic encounter with the young Jewish woman Mirah, he becomes involved in a search for her lost family and finds himself drawn into ever-deeper sympathies with Jewish aspirations and identity. 'I meant everything in the book to be related to everything else', wrote George Eliot of her last and most ambitious novel, and in weaving her plot strands together she created a bold and richly textured picture of British society and the Jewish experience within it.
Information
Format: Paperback
Pages: 896 pages
Publisher: Penguin Books Ltd
Publication Date: 26/10/1995
Category: Classic fiction (pre c 1945)
ISBN: 9780140434279
Other Formats
Paperback from £2.50
CD-Audio from £11.25
Hardback from £11.25
PDF from £2.54
eAudiobook MP3 from £7.20
Audio disc from £57.19
EPUB from £2.54
Free Home Delivery
on all orders
Pick up orders
from local bookshops
Reviews
Showing 1 - 3 of 3 reviews.
Review by awilliamson
16/06/2015
This is my all time favorite novel. Eliot managed to combine the social issues of prejudice, upbringing, and class creating a wonderful tale of love and finding one's own self.
Review by keristars
16/06/2015
This is one of those works of classic British literature that is apparently absolutely fantastic and a must read for everyone (especially English majors), but which is extremely difficult and at times mind-numbingly boring.I like George Eliot, I really do. I think she was a great writer, and the themes and techniques she uses in her novels are pretty cool and make for some fun discussions (that is, if you're the kind of person who gets into conversations about, as one example, the rise of the middle class/democracy in the nineteenth century as shown in really long novels). But I don't like reading her books. <i>Daniel Deronda</i> didn't keep my attention, and I felt like I had to force myself through the middle section, and I never did read the entire thing, though I skipped to the end and I have a good idea of how the story goes. Maybe one day, I'll go back to the novel and try it again, but that probably won't be until I've read absolutely everything else on my shelves, I'm sure.<i>Daniel Deronda</i> is marginally more entertaining than <i>Mill on the Floss</i>, and definitely more enjoyable than <i>David Copperfield</i>, but it's <i>really really long</i> and Victorian, and, well, I'd rather see a film version than read it.
Review by raschneid
16/06/2015
Ambitious and thought-provoking, as always. Daniel Deronda begins as a traditional novel of courtship and marriage. Then, a hundred pages in, it becomes an unconventional exploration of nationalism and morality, with a conclusion that I'm sure would have been quite daring for its time.<br/><br/>I'm not sure how well Eliot's musings about nationalism have aged; in a large part this book is about ethnic identity and Zionism, and Daniel Deronda's happily ever after as a Zionist feels unconvincing now that we've had sixty years of conflict in Palestine. Eliot's specific claims - that, despite the fact that some people just aren't interested in their background, or that background entails suffering in the form of discrimination or internal sexism, group identity has something to offer its members - is something with which most people will agree to a point, but perhaps not to the point that Eliot wants to take it.<br/><br/>However, I imagine this was a groundbreaking novel in its portrayal of Jewish characters, and the comparisons between the female characters in Mirah's world and Gwendolen herself were genius.<br/><br/>I also found Daniel, while at times a bit preachy, a very compelling character, whose total willingness to sympathize and try to understand the world leaves him unable to act in it. From this perspective, Daniel's taking on an identity is crucial and gives him a context from which to act. His adoption of this identity feels troublesomely random, but perhaps this is Eliot being a bit sly and unessentialist.