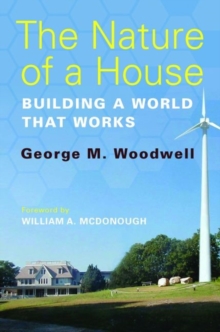 The Nature of a House : Building a World that Works
Paperback / softback
Description
Is it possible for a group of the world's most respected environmental scientists to truly practice what they preach?
Can their expertise in climate change help them in transforming an old house and its nine acres into their new office building and campus - a building that is as energy efficient as possible, uses local materials, and generates all of the energy it consumes?
In this candid, charming, and informative book, the director of the renowned Woods Hole Research Center tells a story that will interest anyone who has ever thought about doing a "green" rehab, has tried to build green, or just wonders what's actually possible.
The Woods Hole Research Center is an international leader in identifying the causes and consequences of environmental change.
When the WHRC needed a new administration building, its scientists and staff decided that the building should utilize "state-of-the-shelf" green building techniques and materials.
However, the new office had to conform with the laws and building codes of the time, and with materials that were then available - no matter how frustrating these requirements were to the resident scientists and contractors.
The author, George M. Woodwell, founder of the WHRC, was intimately involved in the design and construction of the Gilman Ordway Campus, which was completed in 2003 in collaboration with McDonough + Partners.
He details the challenges they faced, some of which are familiar to everyone who tries to "build green": the vagaries of building codes, the whims of inspectors, the obstreperousness of subcontractors, the search for appropriate materials, and the surprises involved in turning an old house into a modern office building.
Woodwell puts the building in a larger context, not only within the work of the Center and the tradition of Woods Hole, but in the global need to minimize our carbon emissions and overall environmental impact.
Building a world that works requires rethinking how we design, reuse, and live in the built environment while preserving the functional integrity of the landscape.
Information
Format: Paperback / softback
Pages: 160 pages
Publisher: Island Press
Publication Date: 30/05/2012
ISBN: 9781610911641