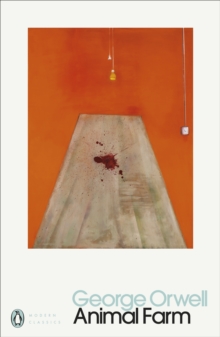 Description
'All animals are equal - but some are more equal than others'When the downtrodden animals of Manor Farm overthrow their master Mr Jones and take over the farm themselves, they imagine it is the beginning of a life of freedom and equality.
But gradually a cunning, ruthless elite among them, masterminded by the pigs Napoleon and Snowball, starts to take control.
Soon the other animals discover that they are not all as equal as they thought, and find themselves hopelessly ensnared as one form of tyranny is replaced with another. 'It is the history of a revolution that went wrong - and of the excellent excuses that were forthcoming at every step for the perversion of the original doctrine,' wrote Orwell for the first edition of Animal Farm in 1945. Orwell wrote the novel at the end of 1943, but it almost remained unpublished; its savage attack on Stalin, at that time Britain's ally, led to the book being refused by publisher after publisher. Orwell's simple, tragic fable has since become a world-famous classic.This Penguin Modern classics edition includes an introduction by Malcolm Bradbury.
Information
Format: Paperback
Pages: 144 pages
Publisher: Penguin Books Ltd
Publication Date: 22/02/2000
ISBN: 9780141182704
Other Formats
Paperback from £4.99
Hardback from £8.35
CD-Audio from £9.95
EPUB from £4.99
eAudiobook MP3 from £5.09
Mixed media product from £26.89
Free Home Delivery
on all orders
Pick up orders
from local bookshops
Reviews
Showing 1 - 5 of 12 reviews.
Previous | Next
Review by zangasta
16/06/2015
The best fairytale ever written?Orwell manages, behind the mask of animals, to give better descriptions of human beings than most authors manage directly. It is through these depictions of human nature that Orwell shows the impractibility of "communism".
Review by john257hopper
16/06/2015
Timeless classic that can be enjoyed at various levels: adults, especially those familiar with Soviet history, can appreciate the political allegory, while children could still appreciate this as an amusing and frightening tale of animals taking over from people. Orwell's original foreword, reproduced at the end of this edition,is also worth reading for its salutary lesson on how liberal intellectuals can sometimes fool themselves into supporting the most illeberal regimes.
Review by seldombites
16/06/2015
This book was quite different from <i>1984</i>, the only other of Orwell's works that I have read. The allusions to communism are obvious and character development was sacrificed in favour of narrative. As a study of historical narrative, this book is important. As an enjoyable book to read, <i>Animal</i> Farm falls short of the mark.
Review by marwanbadri
16/06/2015
Although in my opinion Animal Farm isn't as marvellous as 1984, it still is a great classic that illustrates how deep Orwell's understanding of the ideology of totalitarian regimes.As explained in the introduction by Malcom Bradbury and in the appendix (Orwell's proposed preface to the text), Orwell faced difficulties in getting this book published mainly because it was understood to be anti-Russian, in an era when anti-Russian publications were not the most popular. Nevertheless, the decades following the publication of Animal Farm have proved Orwell's book described in advance many other totalitarian regimes that followed Russia's version. Having lived for over two decades in Saddam Hussein's totalitarian rule of Iraq, I was able to correctly guess most of the ends of the chapters in the book after reading the 1st page or two of each chapter. Ironically, this made the book more rather than less interesting for me. Like 1984, Animal Farm made me wonder whether its George Orwell that was able to perfectly describe totalitarianism, or it is that dictators like Saddam Hussein referred to this text amongst others to help themselves shape the way they govern their countries in a typical totalitarian way? Regardless of the answer, this is certainly a book that deserves its place among the most influential books in the modern history of nations.
Review by Tropic_of_Cancer
16/06/2015
First of all, I'm not really a fan of fables, so I guess that's why the book didn't capture my attention as it should have. On the other hand, I love to read about historical facts and satires, so I enjoyed it. Not nearly as good as 1984, but it was an interesting, quick read.