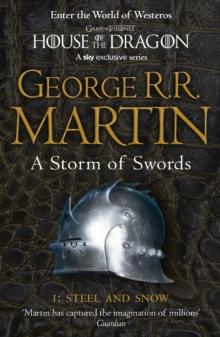 A Storm of Swords: Part 1 Steel and Snow (Reissue)
Paperback
Description
HBO's hit series A GAME OF THRONES is based on George R R Martin's internationally bestselling series A SONG OF ICE AND FIRE, the greatest fantasy epic of the modern age.A STORM OF SWORDS: STEEL AND SNOW is the FIRST part of the third volume in the series.`Martin has captured the imagination of millions' GuardianWinter approaches Westeros like an angry beast.The Seven Kingdoms are divided by revolt and blood feud.
In the northern wastes, a horde of hungry, savage people steeped in the dark magic of the wilderness is poised to invade the Kingdom of the North where Robb Stark wears his new-forged crown. And Robb's defences are ranged against the South, the land of the cunning and cruel Lannisters, who have his younger sisters in their power.Throughout Westeros, the war for the Iron Throne rages more fiercely than ever, but if the Wall is breached, no king will live to claim it.
Information
Format: Paperback
Pages: 688 pages
Publisher: HarperCollins Publishers
Publication Date: 01/09/2011
Category: Fantasy
ISBN: 9780007447848
Free Home Delivery
on all orders
Pick up orders
from local bookshops
Reviews
Showing 1 - 5 of 6 reviews.
Previous | Next
Review by gmehn
16/06/2015
Good, but you'll need to have read the first two. I like this, I really do, but it seems like it's sometimes getting a bit tendril-y. As in, too many threads. It can be hard to follow. When it's good, it's brilliant. I'm afraid it may be going down that road of too many plot threads so its going to have to be a dozen books long. One can hope, though. Still and all, worth a read.
Review by Elliots89
16/06/2015
The more you read of these sets of books the more you get sucked into its world, in this first part of the third installment, life is still difficult for all the characters with the added threat of the advancing north. The only criticism I would have of the book is there may be too many lesser characters, at times it can be confusing on who these numerous knights actually are and what they have done. Overall though a great continuation of the story!
Review by wyvernfriend
16/06/2015
I do deeply want to enjoy this, so many of my friends adore this series, but I think it's too fractured, I don't want to care much for a lot of the characters because I know people die, and I think Brienne is a character who deserved better.It took me a fair few pushes to get to about half-way and then I was finished in a few hours, so I'm not being pulled in by it, it's just not happening easily enough.Marriages happen, people die, people grow and change and I can see the puppeteers hand as he moves the pieces around. I can also see the idea of telling a story from several facets so you get a more rounded story, but at this stage I'd almost just like it to be one person's story, one view or maybe two. It's multilayered and complex and sometimes I find that more tedious than interesting. I get it, I know the why and the idea but the fractured story leaves me cold, it's not a storytelling style I enjoy that much.Will I finish the series, probably, but there is no great urge in me to do so.
Review by reading_fox
16/06/2015
Yet more of the same, this time with added confusiona bout when anything has happened as George seems to have realised he needs chronology, but hasn't previously been keeping track. There are still no dates on any of the events. Its very odd reading about one characters events, and then in the next chapter having a nother character acting as if it hadn't happened wihout any explanation as to why. When in other instances there is almost instantaineous communication. The list of characters is pretty much the same as the last book which is easier to cope with as you know who they are now. Nobody is actually doing anything that interesting though, but there are a some signs that something might begin to happen in the next few books time. if you can still be bnothered to read that far. the only excitement is the rise of some actual magic, although no explanation is given as to why. Minor bugfbear alert - very poor section on caves. Completely fails to capture the experience of being underground, and at approx 10C it really isn't condusive to taking all your clothes off. The icefead water will be even colder and less frolic inducing!I'd definetly prefer less characters and slightly more action. But as beofre the quality fo the writing for each individual chapter remains high, it's only the overal direction that is lacking.
Review by atreic
16/06/2015
Again, I read these through back to back in a couldn't-put-them down way, but they have all merged!
Also in the A Song of Ice and Fire series | View all