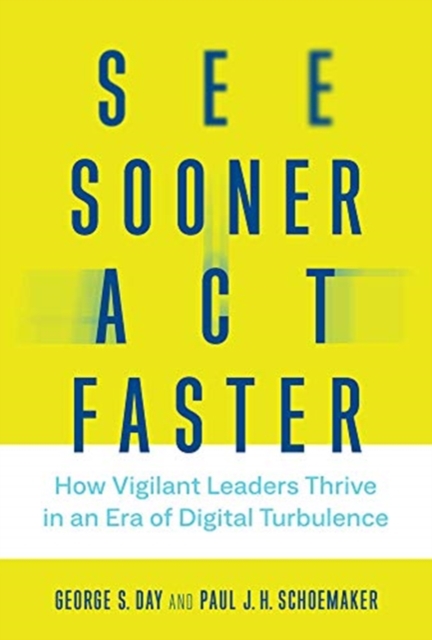 See Sooner, Act Faster : How Vigilant Leaders Thrive in an Era of Digital Turbulence
Hardback
Description
How organizations can anticipate threats, spot opportunities, and act faster when the time is right; with rich examples including Adobe, MasterCard, and Amazon. When turbulence is the new normal, an organization's survival depends on vigilant leadership that can anticipate threats, spot opportunities, and act quickly when the time is right.
In See Sooner, Act Faster, strategy experts George Day and Paul Schoemaker offer tools for thriving when digital advances intensify turbulence.
Vigilant firms have greater foresight than their rivals, while vulnerable firms often miss early signals of external threats and organizational challenges.
Charles Schwab, for example, was early to see and act on the promise of "robo-advisors"; Honeywell, on the other hand, stumbled when Nest Labs came out first with a "smart" thermostat.
Day and Schoemaker show leaders how to assess their vigilance capabilities and cultivate insight and foresight throughout their organizations.
They draw on a range of cases, including Adobe and Intuit's move to the cloud, Shell's investment in clean energy, and MasterCard's early recognition of digital challenges.
Day and Schoemaker describe how to allocate the scarce resource of attention, how to detect weak signals and separate them from background noise, and how to respond strategically before competitors do.
The challenge is not just to act faster but to act wisely, and the authors suggest ways to create dynamic portfolios of options.
Finally, they offer an action agenda, with tips for fostering vigilance and agility throughout an organization.
The rewards are stronger market positions, higher profits and growth, more motivated employees, and organization longevity.
Information
Format:Hardback
Pages:208 pages, 17 figures; 17 Illustrations, unspecified
Publisher:MIT Press Ltd
Publication Date:01/10/2019
Category:
ISBN:9780262043311
Information
Format:Hardback
Pages:208 pages, 17 figures; 17 Illustrations, unspecified
Publisher:MIT Press Ltd
Publication Date:01/10/2019
Category:
ISBN:9780262043311
Also in the Management on the Cutting Edge series | View all