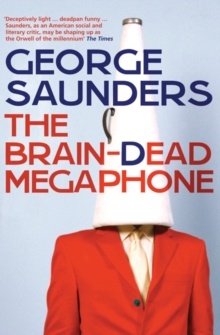 The Brain-dead Megaphone
Paperback
Description
In this, his first collection of essays, Saunders trains his eye on the real world rather than the fictional and reveals it to be brimming with wonderful, marvellous strangeness.
As he faces a political and cultural reality saturated with lazy media, false promises and political doublespeak, Saunders invokes the wisdom of American literary heroes Twain, Vonnegut and Barthelme and inspires us to re-examine our assumptions about the world we live in, as we struggle to discover what is really there.
Information
Format: Paperback
Pages: 272 pages
Publisher: Bloomsbury Publishing PLC
Publication Date: 16/03/2009
Category: Humour
ISBN: 9780747596417
Other Formats
Paperback from £7.69
EPUB from £7.19
Free Home Delivery
on all orders
Pick up orders
from local bookshops
Reviews
Showing 1 - 1 of 1 reviews.
Review by RandyMetcalfe
16/06/2015
I'm not entirely sure why some of the finest writers of fiction, be it short stories or novels, end up writing occasional, topical, non-fiction. It may have something to do with mortgages, children who need shoes, and putting food on the table. I take it that they get paid, though probably not handsomely, on delivery of whatever topical non-fiction piece they have been commissioned to write. Yes, commissioned; this isn't even writing on spec. With fiction you tend to write it and then have to send it out somewhere hoping beyond hope that someone will like it enough to offer to publish it and maybe even pay you a pittance for it somewhere down the line. It's not a good system for meeting monthly mortgage payments and that annoying need for daily sustenance. And so, eventually, a fine writer of fiction, be it of short stories or novels, will accrue a substantial body of non-fiction pieces that he or she will, often, collect together into a book that has nothing that makes it cohere other than the fact that each piece has been written by this same fine author who typically writes fiction. <i>The Brain-Dead Megaphone</i> is such a collection. Fortunately, the author in question is George Saunders, so most, though perhaps not all, of the topical pieces in this collection are a) funny, b) satirical, c) outlandish, or d) something even more than outlandish (but still funny).The only essay here that defies the norm and fails, rather, as a result, is the title essay, which is po-faced and not funny in the least. Skip that one, if you can. Turn quickly, instead, to Saunders' exploration of Dubai, which is weirder than the strange futuristic societies in his short stories, or his trek to visit a possible incarnation of the Buddha in Nepal. Apparently GQ paid good money to send George on these trips and then also paid for the articles he wrote thereafter. It is a very strange world, indeed. I very much enjoyed his essay, "Mr. Vonnegut in Sumatra" where he comes to grips with the 'real' nature of fiction for the first time in his life. There are also other pieces here on fiction, teaching creative writing, on the great American novel, and more. They offer a fascinating insight into Saunders' creative practice.But more often than not Saunders cannot resist his incessant need for satire, even when at his own expense. In "A Brief Study of the British" or "Ask the Optimist!" or "Thought Experiment" he is just riffing on whatever theme is at hand. It's great good fun. Which is something, and may even be enough. So long as it pays the bills and allows him to get back to what he does best, i.e. writing fiction. Gently recommended.