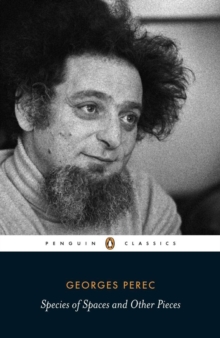 Species of Spaces and Other Pieces
Paperback
Description
George Perec produced some of the most entertaining and spirited essays of his age, and Species of Spaces and Other Pieces is edited and translated from the French with an introduction by John Sturrock in Penguin Classics.Georges Perec, author of Life: A User's Manual, was one of the most surprising and enjoyable of all modern French writers.
The pieces in this volume show him to be at times playful, more serious at other, but writing always with the lightest of touches.
He had the keenest of eyes for the 'infra-ordinary', the things we do every day - eating, sleeping, working - and the places we do them in without giving them a moment's thought.
But behind the lightness and humour, there is also the sadness of a French Jewish boy who lost his parents in the Second World War and found comfort in the material world around him, and above all in writing.This volume contains a selection of Georges Perec's non-fiction works, along with a charming short story, 'The Winter Journey'.
It includes notes and an introduction describing Perec's life and career.Georges Perec (1936-1982) was born in Paris, the son of Polish Jews.
After his father was killed in the Army, and his mother deported to Auschwitz where she later died, Perec was adopted by his aunt and uncle.
Working for most of his life as an archivist, Perec was one of the most important post-war French novelists.
He is best remembered as the author of Life, A User's Manual and The Void, a novel which does not use the letter 'e'.If you enjoyed Species of Spaces, you might also like Susan Sontag's Against Interpretation and Other Essays, available in Penguin Modern Classics.'One of the most significant literary personalities in the world'Italo Calvino
Information
Format: Paperback
Pages: 320 pages
Publisher: Penguin Books Ltd
Publication Date: 31/01/2008
Category: Literary essays
ISBN: 9780141442242
Free Home Delivery
on all orders
Pick up orders
from local bookshops