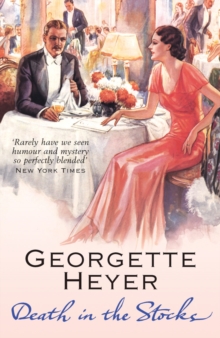 Death in the Stocks
Paperback
Description
A moonlit night. A sleeping village. And an unaccountable murder... An English bobbie returning from night patrol finds a corpse in evening dress locked in the stocks on the village green.
He identifies the body immediately. Andrew Vereker was not a well-loved man, and narrowing down the suspects is not going to be an easy job.
The Vereker family are corrupt and eccentric -and hardly cooperative ... It's another case for the resourceful Superintendent Hannasyde, who sets off on the trail of a killer so cunning that even his consummate powers of detection are tested to their limits...
Information
Format: Paperback
Pages: 304 pages
Publisher: Cornerstone
Publication Date: 06/04/2006
Category: Crime & mystery
ISBN: 9780099493624
Free Home Delivery
on all orders
Pick up orders
from local bookshops
Reviews
Showing 1 - 3 of 3 reviews.
Review by riverwillow
16/06/2015
An entertaining murder mystery. Arnold Vereker is found dead on the village green locked in the stocks (hence the title). A thoroughly unpleasant man suspicion falls on his immediate family, his entertainingly eccentric half-brother and sister, Kenneth and Antonia (Tony). Several plot twists and red herrings, all deliciously interspersed with Hannasyde's encounters with the madly eccentric Vereker family, the murder is resolved. Perfect.
Review by breadcrumbreads
16/06/2015
A wealthy mine owner is found dead in a little village. It's a neat crime that leaves even Scotland Yard all at sea. When a man has had many enemies and no one seems to moan him nobody is a fit suspect. But then there is motive and detective Hannasyde has his hands full trying to prove a member of Vereker's family guilty.It's a rather typical who-done-it mystery, with quite enough dust thrown, not only in the investigators' eyes but in the eyes of the reader as well. I thought the plot was quite good, but the characters were rather irritating. None of them were in the least endearing nor worthy of sympathy. The only character that showed any promise of being interesting turned out to have rather a back-seat role. I refer to Hannasyde. The blurb, I think, is rather misleading as it suggests Hannasyde to have a role pretty much like Hercule Poirot or Miss Marple. Georgette Heyer's wit is spread rather liberally through out the mystery, but while this particular brand of with works very well with her Regency Romances, it seems rather out of place in this setting. The characters, almost all of them, are rather flippant and careless in all that they do and say (which makes them all suspect), and, personally, I was very sceptical about their attitude toward the whole case. Many instances seemed realistically improbable.Nevertheless, Death in the Stocks was an interesting enough read. If you like to wonder and guess, it's a good story. After reading many of it's kind one becomes adept at guessing who the murderer would be right from the start, but this one kept me guessing almost till the end.
Review by 26kathryn
16/06/2015
This was an excellent mystery story. When Arnold Vereker's body is found locked in the village stocks the main suspects are his family. I did find the Vereker family a bit annoying and stupid at times, but on the other hand they were quite realistic with real flaws. The whole book is basically the Verekers discussing how each of them could have been the murderer and it seemed like they were all trying to protect each other by making false statements and confessions.As the book drew to a close I was convinced I knew who the killer was, but the real killer was a huge surprise!This book was a great cozy mystery and I'd recommend it to anyone who enjoys mysteries that are a bit light-hearted.