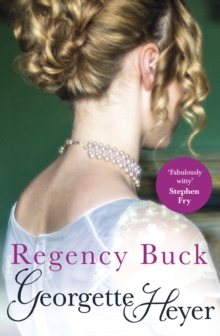 Description
It is in regrettable circumstances that beautiful Judith Taverner and her brother Peregrine first encounter Julian St.
John Audley. The man, they both agree, is an insufferably arrogant dandy.
But unfortunately for them, he is also the Fifth Earl of Worth, a friend of the Regent and, quite by chance, their legal guardian ... Delightfully witty and romantic, Regency Buck shows all the skills which made Georgette Heyer the most widely read and loved author of historical romances in the world, and which have made another generation fall in love with her all over again.
Information
Format: Paperback
Pages: 368 pages
Publisher: Cornerstone
Publication Date: 04/10/2003
Category: Historical fiction
ISBN: 9780099465584
Other Formats
Paperback from £7.65
EPUB from £2.99
Free Home Delivery
on all orders
Pick up orders
from local bookshops
Reviews
Showing 1 - 5 of 7 reviews.
Previous | Next
Review by riverwillow
16/06/2015
Georgette Heyer novels are the ultimate comfort read, and this is one of the best wit its sparkling dialogue and prose - Heyer in superb form.
Review by Anniik
16/06/2015
"Regency Buck" is the story of feisty Judith Taverner and Lord Julian St. John Audley, the Fifth Earl of Worth. Due to a careless mistake in her father's will, Judith and her younger brother Peregrine find themselves Julian's wards. Pompous, arrogant, and a bit of a dandy, Julian is as horrified as his wards at the situation, especially when he starts interfering in their lives - as he does when he expressly forbids Judith to marry while under his guardianship. While Judith flourishes in London and becomes quite a favorite of the ton, Peregrine finds himself gambling away a great deal of his fortune - until he falls in love and finds himself wishing to marry, inadvertently putting himself in great danger...This is a charming book. The characters are three-dimensional and interesting, and Heyer's descriptions of the locations, fashion, and people add a great deal to the atmosphere of the book. The building attraction between Judith and Julian is fun to follow, especially as Judith denies it for most of the book. We are not let as frequently into Julian's thoughts, but it is obvious from his actions when he starts caring for her. The last third of the book is exciting, and although the villain is somewhat obvious, it is a satisfying conclusion nonetheless.A good and entertaining read!
Review by DeltaQueen50
16/06/2015
This book, to me, was the perfect Regency Romance! Georgette Heyer delivers a captivating love story with her usual witty dialogue and accurate descriptions of fashion and other period detail. The characters were pitch perfect from Judith Taverner as the innocent heiress, her brother Peregrine, the engaging younger brother, and Lord Worth, the handsome, manly guardian who we just knew has deep feelings for the beautiful Judith. We are even treated to a dastardly villain or two. Georgette Heyer was one of the originators of the Regency Romance genre and she was a master at her craft. Her ability to people her book with many interesting and amusing characters allows the familiar plot to appear fresh. Her settings, from cock-fighting to a Prince's drawing room are so well written as to place you on the spot.I found Regency Buck to be a delightful read and I was charmed by it.
Review by Condorena
16/06/2015
This is Georgette Heyer's first story actually set in the regency era . Beautiful heiress Judith Tavener and her younger brother become wards of Julian St John Audley the Earl of Worth. What a great name! The two young people have travelled down to London from Yorkshire planning not to set the world on fire but just to shake the straw out of their hair.<br/><br/>Before long a game is afoot to murder the young Percy. Is the culprit the free spending Lord Worth are there other villains in the family such as a dipsomaniac uncles whose pockets are to let? The book is filled with such interesting turns of phrase which are well researched by Heyer, at heart a historian.<br/><br/>These stores are well worth reading.<br/>
Review by auntieknickers
16/06/2015
I've often read remarks by people who say that Georgette Heyer's books are some of their favorite "comfort reads" to which they return over and over.Jane Austen, Patrick O'Brian, and Bernard Cornwell, with an assist from Cynthia Harrod-Eagles (some of her Morland Dynasty series) had pretty well covered the early 19th century for me, so I felt that Heyer would likely remain a closed book. But then I found the Guardian list, 1000 Novels Everyone Must Read, and on it were two of Heyer's books. Wandering through the library, I noticed one of them among the shelves, a well-used copy of Regency Buck, and thought I'd give it a try.Although it's characterized on the listing in the front matter as a "historical romance" rather than a "thriller," and was in the Guardian's "Love" category, there was definitely an element of suspense and crime in this tale. An orphaned, but very wealthy, brother and sister, Peregrine, 19, and Judith, 20, decide to remove to London from their native Yorkshire. They find that their guardian, thought to be an elderly Earl, is in fact the new Earl, a man of 35. He and our heroine Judith clash from their first meeting. Anyone who has read a few romance novels, no matter what the setting, will at once assume that these two will end up together. But Heyer keeps us guessing -- perhaps the Earl is even worse than he seems? It's certain that *someone* has a plan: to murder Peregrine, thus increasing Judith's already considerable value as an heiress, and then to marry her. Peregrine's engagement and Judith's approaching majority speed events to a climax. The clues are there, but Heyer is a mistress of misdirection and that kept me reading. What tempted me at times to give up (instead, I just skimmed) were the seemingly endless pages of description that did not advance the plot, but rather appeared to be simply showing off the author's research skills. Three full pages describing the Royal Pavilion at Brighton, just at a point in the narrative when the reader wants to know what's going to happen next -- maddening! The excessive descriptions of dresses, hats, and gentlemen's wear, complete with fabrics unknown today, made parts of this book a "page-turner" in quite the wrong way for me.I wonder if the faithful readers of Heyer also just skim the pages of description and concentrate on the nuggets of plotting and characterization, which are the real gold in this book? That her readers are legion is certainly true based on the copy I read -- purchased in 1966, when the first American edition came out (oddly, as the book was published in England in 1935), it's been checked out at least 10 times in the past 6 years, and has had to be rebound at some point because of heavy use.I won't be rushing to read another Georgette Heyer, but now I think I can see the attraction. And I've spent some mostly enjoyable hours and checked one more book off my list.