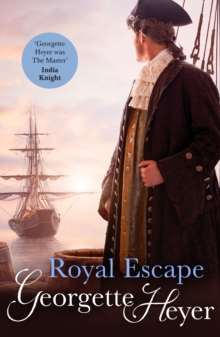 Description
Dispossessed of crown and kingdom, crushed and routed at the grim Battle of Worcester, the young Charles II is forced to flee for his life.
Out of the heat of battle, the outlaw King and his tiny party must journey across Cromwell's England to a Channel port and a ship bound for France and safety.
But the King, with his love of adventure, his irrepressible humour and his unmistakeable looks, is no easy man to hide... A typically witty, exciting and wonderful tale of historical adventure, Royal Escape will please Georgette Heyer fans old and new.
Information
Format: Paperback
Pages: 400 pages
Publisher: Cornerstone
Publication Date: 06/10/2005
Category: Historical romance
ISBN: 9780099476399
Free Home Delivery
on all orders
Pick up orders
from local bookshops
Reviews
Showing 1 - 2 of 2 reviews.
Review by PhilSyphe
16/06/2015
The royal who is making his escape is Charles II of England. Those familiar with seventeenth-century English history will know that this king's father – Charles I – was beheaded by the "Roundhead" parliamentary side of the Civil War, after which the second Charles continued to fight, though he was king in name only.This story opens at the Battle of Worcester, September 1651. Charles reluctantly admits that his advisors are right by urging him to flee, for the battle, and indeed the war, has been lost.The remainder of the book focuses on how Charles disguises himself as a commoner and is aided by a couple of nobles and several loyal poor people to avoid capture. His aim is to secure a safe passage from England to seek refuge in France.Whilst I like most of the characterization and numerous scenes, more occasions than not left me bored. Reason being that this is an extremely *slow* read. At times, when there's some character interaction, the dialogue speeds the narrative up a little, but 90 per cent of this novel is slow paced.Although it's well plotted and historically researched, the plot tends to linger in one place too long in several instances. I guess the author's aim was to create suspense, but from this reader's view at least, it just created tedium. What prompted me to rate this three stars instead of two was Ms Heyer's portrayal of Charles II. Here he lives up to his nickname of "The Merry Monarch" and is by far the best character of the book.Huge potential for a cracking story lies dormant here, hidden beneath a snail-pace narrative.
Review by gogglemiss
27/08/2015
Hugely enjoyable tale of King Charles ll, fleeing from the Battle of Worcester staying in safe houses, while planning to reach the Channel to sail to France.Wonderful characters litter the story and Charles's charming wit and humour is a joy to read.As this was written by Heyer in 1938, this has held up remarkably well.