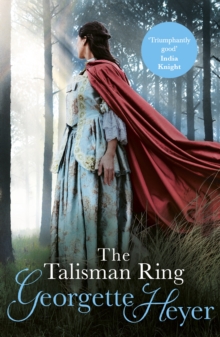 The Talisman Ring
Paperback
Description
The legend of the Headless Horseman and a proposed marriage de convenance both have their impact on the mystery of a golden talisman ring and Lord Lavenham's young heir, Ludovic.
Neither Sir Tristram Shield nor Eustacie, his young French cousin, share the slightest inclination to marry one another, yet it is Lord Lavenham's dying wish.
For there is no one else to provide for the old man's granddaughter while Ludovic remains a fugitive from justice ...Yet again Georgette Heyer shows the qualities that made her one of the most successful and best-loved romantic novelists of her age, and why her popularity endures to this day.
Information
Format: Paperback
Pages: 272 pages
Publisher: Cornerstone
Publication Date: 06/01/2005
Category: Historical fiction
ISBN: 9780099474395
Free Home Delivery
on all orders
Pick up orders
from local bookshops
Reviews
Showing 1 - 5 of 10 reviews.
Previous | Next
Review by uncultured
16/06/2015
Basically a madcap caper-Romance set in an isolated setting (a good old English inn), this "romance" by Georgette Heyer is actually suitable for anyone who enjoys historical fiction. It has smugglers, late night assassins, a missing ring, an early version of Scotland Yard, lots of dry humor, and of course, romance-as-witty-conversation. I wish Heyer had written in this style in more of her work--though her straight romances are excellent, some could stand an adventure or two. As the above reviewer mentioned, [The Reluctant Widow] is another book with romance and adventure, as is [These Old Shades], which many claim as Heyer's best.
Review by helen295
16/06/2015
I could describe this book in one word: fun!Lord Lavenham's dying wish is that his great-nephew Sir Tristram Shield will marry his granddaughter Eustacie de Vauban. However, Tristram is a sensible, practical man in his thirties while Eustacie is a romantic, passionate girl of eighteen – and neither particularly wants to marry the other. Eustacie would prefer to marry her other cousin, Ludovic, but there's just one problem: Ludovic is a fugitive, wanted for murder. With the help of Sarah Thane, Tristram and Eustacie begin a search for the talisman ring that will prove Ludovic's innocence. This is all part of a thrilling adventure involving smugglers, excisemen, the Bowstreet Runners and a Headless Horseman!I enjoyed the witty dialogue and the way all the characters interacted with each other, particularly the relationships between Tristram and Sarah, and Eustacie and Ludovic. Even the minor characters were well drawn and fun to read about. One of my favourites was Sir Hugh Thane, Sarah's brother, who appeared completely oblivious to what was going on around him and was more interested in the contents of the Red Lion's cellar.I thought Eustacie was very over the top and as a result, not very realistic, but I can appreciate that Heyer had intended her to be an amusing, entertaining character. I preferred the book's other heroine, Sarah Thane, who was more down to earth and composed – athough like Eustacie, she longs to have some excitement in her life and dreams of finding secret panels and underground passages!The Talisman Ring has a bit of everything: mystery, adventure, history, romance and comedy. In general I prefer my historical fiction to be more serious, but I still enjoyed this book and am looking forward to reading more of Heyer's work.
Review by riverwillow
16/06/2015
This is Heyer's reworking of Sense and Sensibility, but in this version sensibility wins out with hilarious results. Oh his deathbed Lord Lavenham, whose heir and grandson, Ludovic, escaped to the Continent prior to his arrest for murder, asks his great-nephew, Tristram, to marry his French granddaughter, Eustacie. Eustacie is young and romantic and quickly finds Sir Tristram too staid and sensible, so, full of romantic ideals, she hatches a plan to flee to London to become a governess. Her plans inevitably go awry, and she encounters local smugglers, led by her cousin Ludovic, with whom she falls in love. She determines to prove his innocence, which can be proven by who finding the possessor of a talisman ring that is the key to the murder. Along the way she encounters Sarah Thane, who has a taste for adventure but is far more sensible and down to earth than Eustacie or Ludovic. Sir Tristram inevitably gets caught up in the plot. All Heyer's hallmarks are here, the plot is fast paced, the dialogue is witty and there are some hilarious moments, mainly involving Sarah and Sir Tristram, with great comic relief added by the scenes with Sarah's brother, Sir Hugh, a Justice of the Peace who has strong feelings about smuggling!
Review by JenJ.
16/06/2015
One of the things I love about Georgette Heyer is that sometimes you don't even realize at first you've read something funny because her humor can be so dry and droll. It really helps that I've seen this one performed as a play - I wouldn't have called it one of my favorites until then but the humor really comes through when the dialogue is brought to life. Also, I'm pretty sure I'm going to need James' promise to ride <i>ventre a terre</i> to my deathbed. Heyer continues to be comfort reading at its best for me.
Review by Condorena
16/06/2015
This story is not classified as one of Georgette Heyer's mysteries but the story does revolve around the solving of the murder of Sir Matthew Plunkett and discovering the location of a talisman ring. When Lord Lavenham crosses the great divide, his grandson and heir Ludovic is supposedly hiding in Europe because he is suspected of being the killer of Sir Matthew.<br/><br/>There is definitely an air of adventure and excitement mixed with some romance as the story unfolds with with, humor and mild suspense. There are cutthroats, smugglers, Bow Street Runners, hidden basements, priest holes and foolish as well as clever heroes and heroines. It is fun to read.