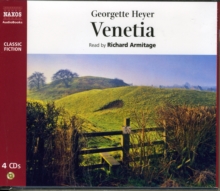 Description
The 2009 Naxos AudioBooks recording of Sylvester met with resounding approval and clamours for more Georgette Heyer audiobooks.
Here is "Venetia", a clear favourite from among Heyer's novels.
In her trademark buoyant and exuberant style, Heyer tells the story of an unconventional romance, which is full of riveting dialogue and loveable, very human characters.
Quick-witted, self-assured, funny and beautiful, "Venetia" is one of Georgette Heyer's most popular heroines.
When the dashing Lord Demerel intrudes upon a quiet provincial community in the North of England, news of his scandalous past soon sets tongues wagging.
In spite her of sheltered upbringing, though, Venetia is singularly unfazed by the rakish Demerel, and proves to be more than a match for him.
Information
Format: CD-Audio
Publisher: Naxos AudioBooks
Publication Date: 01/04/2010
Category: Historical fiction
ISBN: 9781843793793
Other Formats
Paperback from £7.65
CD-Audio from £26.65
EPUB from £3.99
Free Home Delivery
on all orders
Pick up orders
from local bookshops
Reviews
Showing 1 - 2 of 2 reviews.
Review by gwendolenau
16/06/2015
The only fault I have to find with this audiobook is that it is an abridged edition of the original work. Otherwise, it is a very well done production and Richard Armitage is an excellent narrator.
Review by mt256
16/06/2015
I have been asked many times in the last few years if I have ever read anything by Georgette Heyer. The answer to that question was no. Georgette Heyer has come recommended highly by several different people. My awesome mom bought me the audio book, Venetia. I don't listen to audio books very much but I think I will in the future. I don't get to read as much as I'd like to because life and laundry get in the way. So, I would put on the CD whenever I was folding laundry or busy cleaning and listen to Venetia. I found myself wanting to clean more just so I could listen. Venetia is read by Richard Armitage. If you're not familiar with him, Richard Armitage has starred in North and South, BBC Robin Hood, and Spooks. He did and excellent job reading this book. He gave each character a distinct voice. He made listening to Venetia very pleasurable. I loved this story. As I mentioned before this is my first experience with Georgette Heyer. I will tell you right now, it won't be my last. Veneita is funny, romantic, mysterious and very entertaining. I found myself captivated by it. The main character Venetia has been kept in the quiet country her whole life. She has some unwanted suitors who plague her life. She goes from one day to the next without much excitement until she meets Lord Dameral. He turns her world upside down. Lord Dameral is a rake. He's also very charming, witty, and extremely handsome. Georgette Heyer definitely knows how to write a man to make all the ladies swoon. This story captivated me from beginning to end. I was sad when the book ended because I wanted more. I would definitely recommend this book to you. If you like regency romance I would put this book on your TBR list.