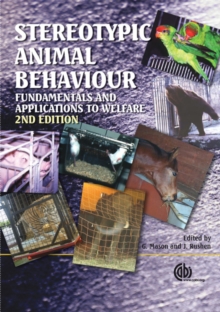 Stereotypic Animal Behaviour : Fundamentals and Applications to Welfare
Paperback / softback
Description
This second edition is a complete re-write of the 1st edition published in 1993 (editors Lawrence and Rushen).
It reflects many recent advances, bringing together all new chapters and over 30 contributors.
Abnormal behaviour patterns, from the jumping and somersaulting of caged laboratory mice to the pacing of enclosed 'big cats', are displayed by many millions of farm, zoo, research and companion animals.
This book focuses on the causation and treatment of these environment-induced stereotypic behaviours, and their implications for animal welfare and normalcy of brain functioning.
The first section takes an ethological perspective, focusing on the constraints captivity places on animals' normal behavioural repertoires, and the effects these have on specific motivational systems.
The second section addresses the role of dysfunction, particularly the impact of chronic stress and impoverished environments on brain functioning.
The third section looks at how stereotypic behaviours can be tackled, once they have emerged, using diverse techniques from environmental enrichment to pharmaceutical intervention.
The volume ends with a synthesis, a suggested new definition for 'stereotypic behaviour', and a discussion of future research directions.
This book will be of significant interest to researchers and advanced students in animal behaviour and welfare, animal and veterinary science, comparative psychology, and neuroscience.
Information
Format: Paperback / softback
Pages: 384 pages
Publisher: CABI Publishing
Publication Date: 09/04/2008
Category: Animal behaviour
ISBN: 9781845934651
Free Home Delivery
on all orders
Pick up orders
from local bookshops