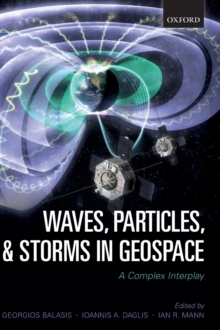 Waves, Particles, and Storms in Geospace : A Complex Interplay
Hardback
Description
Geospace features highly dynamic populations of charged particles with a wide range of energies from thermal to ultra-relativistic.
Influenced by magnetic and electric fields in the terrestrial magnetosphere driven by solar wind forcing, changes in the numbers and energies of these particles lead to a variety of space weather phenomena, some of which are detrimental to space infrastructure.
This book presents an overview of the latest discoveries and currentscientific understanding of the coupling of electromagnetic waves and charged particles during magnetic storms, and explains the observed dynamics of these particle populations.
The book furthermore includes investigations relevant to understanding and forecasting this space environment and the adverseimpacts of space weather. High-energy electrons and ions in the Van Allen radiation belts and the ring current are of particular interest and importance with regard to the operation of space-based technological infrastructure upon which 21st century civilisation increasingly relies.
This book presents the latest research on the sources, transport, acceleration and loss of these energetic particle populations, as well as their coupling during geospace magnetic storms.
Information
Format: Hardback
Pages: 480 pages, 157
Publisher: Oxford University Press
Publication Date: 20/10/2016
Category: Astrophysics
ISBN: 9780198705246
Free Home Delivery
on all orders
Pick up orders
from local bookshops