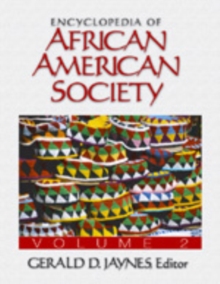 Encyclopedia of African American Society
Hardback
Description
The Encyclopedia of African American Society is the first comprehensive and accessible reference set in this field to give voice to the turbulent trends, past and present, that are often ignored in favor of mere facts.
Although numerous biographical, chronological and bibliographical reference works exist, none seeks to capture, in a single set, the ways in which the tenets and foundations of African American culture have given rise to today's society.
This two-volume encyclopedia fills the gap and has become a staple in collections in school, public and academic libraries.
The encyclopedia is anchored by alphabetically arranged essays on such topics as abolitionism, affirmative action, and the civil rights movement, and contains hundreds of shorter articles on notable African Americans, groundbreaking events, sports and culture, labor and significant heritage sites. Key FeaturesOver 700 signed articles, organized A-Z More than 50 photographs Reader's guide facilitates easy browsing for relevant articles Comprehensive index and bibliographyTopics CoveredConcepts and Theories Fine Arts, Theater, and Entertainment Health and Education History and Heritage Literature Media Movements and Events Music and Dance Organizations and Institutions Places Politics and Policy Popular Culture Religion and Beliefs The Road to Freedom Science, Technology, and Business Social Issues Special Populations SportsAdvisory Board
Information
Format: Hardback
Pages: 1112 pages
Publisher: SAGE Publications Inc
Publication Date: 17/02/2005
Category: Reference works
ISBN: 9780761927648