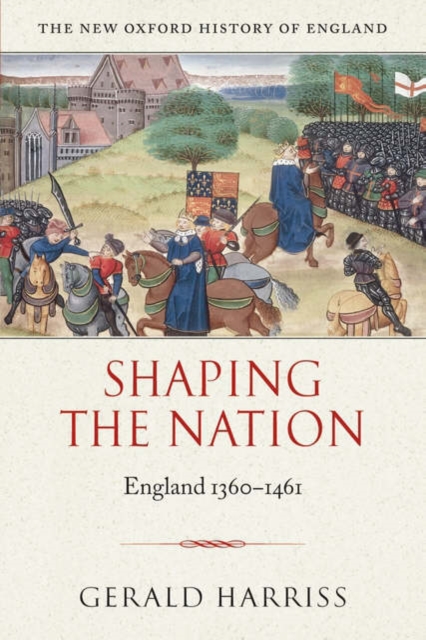 Shaping the Nation : England 1360-1461
Paperback / softback
Description
The Black Death, the Peasants' Revolt, the Hundred Years War, the War of the Roses...
A succession of dramatic social and political events reshaped England in the period 1360 to 1461.
In his lucid and penetrating account of this formative period, Gerald Harriss draws on the research of the last thirty years to illuminate late medieval society at its peak, from the triumphalism of Edward III in 1360 to the collapse of Lancastrian rule.
The political narrative centres on the deposition of Richard II in 1399 and the establishment of the House of Lancaster, which was in turn overthrown in the Wars of the Roses.
Abroad, Henry V's heroic victory at Agincourt in 1415 led to the English conquest of northern France, lasting until 1450.
Both produced long term consequences: the first shaped the English constitution up to the Stuart civil war, while the second generated lasting hostility between England and France, and a residual wariness of military intervention in Europe.
Equally significant changes occurred in English society.
The Black Death produced a crisis in agrarian structures, marked by the Peasants' Revolt in 1381 and the end of serfdom.
In landed society distinctive grades of knights, esquires and gentlemen emerged, linked to the nobility in a web of patronage and service, with an ethos of 'good lordship' and fidelity.
While the nobility were the king's immediate counsellors, the gentry reflected the concerns of the community of the realm in parliament.
An increasingly well-educated and articulate class, they served as MPs and JPs and staffed the growing legal profession.
The greater merchants controlled the wool trade, the source of England's wealth, and distributed commodities through a network of towns and markets.
The marked individualism of this society, memorably depicted in The Canterbury Tales, was accompanied by a growing sense of national identity, expressed in the use of standard London English.
A spate of church building in perpendicular, a distinctive national style, was matched on the one hand by the intensity of Catholic devotion and on the other hand by the proto-Protestantism of John Wyclif and the Lollards.
Information
Format:Paperback / softback
Pages:736 pages, 12 black and white plates, 5 figures, 9 maps, 4 tables
Publisher:Oxford University Press
Publication Date:09/11/2006
Category:
ISBN:9780199211197
Information
Format:Paperback / softback
Pages:736 pages, 12 black and white plates, 5 figures, 9 maps, 4 tables
Publisher:Oxford University Press
Publication Date:09/11/2006
Category:
ISBN:9780199211197
Also in the New Oxford History of England series | View all