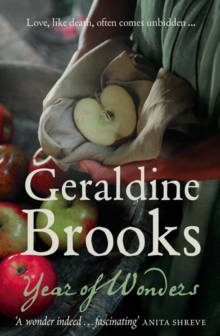 Year of Wonders
Paperback
Description
From the Pulitzer Prize-winning author of `March' and `People of the Book'.A young woman's struggle to save her family and her soul during the extraordinary year of 1666, when plague suddenly struck a small Derbyshire village.In 1666, plague swept through London, driving the King and his court to Oxford, and Samuel Pepys to Greenwich, in an attempt to escape contagion.
The north of England remained untouched until, in a small community of leadminers and hill farmers, a bolt of cloth arrived from the capital.
The tailor who cut the cloth had no way of knowing that the damp fabric carried with it bubonic infection.So begins the Year of Wonders, in which a Pennine village of 350 souls confronts a scourge beyond remedy or understanding.
Desperate, the villagers turn to sorcery, herb lore, and murderous witch-hunting.
Then, led by a young and charismatic preacher, they elect to isolate themselves in a fatal quarantine.
The story is told through the eyes of Anna Frith who, at only 18, must contend with the death of her family, the disintegration of her society, and the lure of a dangerous and illicit attraction.Geraldine Brooks's novel explores love and learning, fear and fanaticism, and the struggle of 17th century science and religion to deal with a seemingly diabolical pestilence. `Year of Wonders' is also an eloquent memorial to the real-life Derbyshire villagers who chose to suffer alone during England's last great plague.
Information
Format: Paperback
Pages: 336 pages
Publisher: HarperCollins Publishers
Publication Date: 02/04/2002
Category: Historical fiction
ISBN: 9781841154589
Free Home Delivery
on all orders
Pick up orders
from local bookshops
Reviews
Showing 1 - 5 of 13 reviews.
Previous | Next
Review by tripleblessings
16/06/2015
Depressing but fascinating novel of the plague year, 1666, when an English village decides to completely isolate itself in a year's quarantine. Anna Frith suffers the loss of her family, and the gradual disintegration of her community through fanaticism and fear. I agree with Eurydice that this novel has flaws, including plausibility, and could have been better.
Review by celticstar
16/06/2015
I'm really beginning to love historical fiction and this really was a page turner. The author had obviously done a lot of research before writing this book but the way she manages to transport you to that little village is brilliant.
Review by bibliobeck
16/06/2015
Wonderful research by the author makes this book totally absorbing. It's a fictionalised account of the Derbyshire village which voluntariy cut itself off from the outside world during 1665/6 in an attempt to halt the plague spreading beyond it's boundaries. As an aside, I really enjoyed the account of the Wise Women and the way they cultivated and used herbs during this period despite the rumblings of accusations of witchcraft that always accompanied such practices.
Review by john257hopper
16/06/2015
A marvellous book, describing the sufferings of this plague-ravaged village, based on the experience of the real village of Eyam in Derbyshire in cutting itself off from the outside world to avoid the spread of the disease (though I understand that in Eyam, one third of the population died, whereas two thirds die in this novel). Most of the characters are quite interesting, though perhaps some did come across as a little stereotyped. The differing ways in which they cope with the disaster around them provoke interesting reflections on the human condition. I found the subsequent life of the central character a bit implausible, though it is true that history can throw up life stories that would make the most imaginative novelist blush. A great novel.
Review by elliepotten
16/06/2015
Wonderful - a novel that doesn't shy away from the grim details, capturing the all-pervading spirit of death in Eyam as the plague ravaged its people. Yet ultimately this is a novel of courage, growth, love and strength in the face of one of the worst horrors of our history. It was gripping and made me cry like a baby!