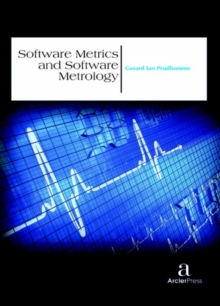 Software Metrics and Software Metrology
Hardback
Description
In software programming, a metric is the dimension of a specific attribute of a program's overall performance or effectiveness.
Maintainability, for example, is a preferred attribute of a software program element which is referenced in most of the primary software quality models (such as the ISO 9126). Although the software metrics criteria utilized in the past was used downstream, the total trend in the area would be to force measurement techniques upstream to the design stage.
Code intricacy may be specific which enables it to be recognized by dimension, while the time required for you to repair code is only able to be calculated after the software program is in use.
A few metrics are wider compared to others. The first chapter features a bridge role metric model.
Chapter 2 compares metrics of assemblies. Chapter 3 scrutinizes measurements of heat collection rate.
Chapter 4 suggests a model of service performance of web services.
Chapter 5 puts emphasis on of automatic face recognition.
Chapter 6 evaluates value-based requirements engineering.
Chapter 7 peruses development of computational macromolecular modeling.
Chapter 8 probes high quality species distribution data.
Chapter 9 evaluates fine-root turnover. Chapter 10 gives an outline of GoodOD guideline for ontology development.
Chapter 11 figures out privacy leak behavior. Chapter 12 analyzes the usefulness of the 3DVH software.
Chapter 13 views global lipidomics analysis. Chapter 14 features confocal microscopy. Chapter 15 scrutinizes systematic reviews. Chapter 16 is designed to develop article-level metrics.
Chapter 17 scrutinizes prepublication peer review processes.
Chapter 18 deals with i3Drefine. Chapter 19 explains macromolecular assemblies. Chapter 20 analyzes sampling algorithms. Chapter 21 studies kinesthetic motor imagery.
Free Home Delivery
on all orders
Pick up orders
from local bookshops