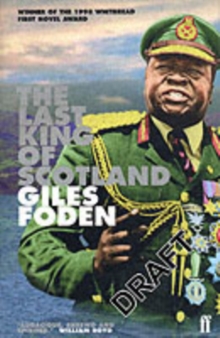 Last King of Scotland (Film Tie-in)
Paperback
Description
What would it be like to become Idi Amin's personal physician?
Giles Foden's best-selling thriller is the story of a young Scottish doctor drawn into the heart of the Ugandan dictator's surreal and brutal regime.
Privy to Amin's thoughts and ambitions, he is both fascinated and appalled.
As Uganda plunges into civil chaos he realises action is imperative - but which way should he jump?
Information
Format: Paperback
Pages: 360 pages
Publisher: Faber & Faber
Publication Date: 18/01/2007
ISBN: 9780571232888
Free Home Delivery
on all orders
Pick up orders
from local bookshops
Reviews
Showing 1 - 3 of 3 reviews.
Review by hides25
16/06/2015
Very interesting, much better than the movie the characters are much more 3 dimensional. Gives you a good feeling for living life under a dictator.
Review by Safia
16/06/2015
It's an enjoyable read you can just plod through, but there's little action and nothing much to get your teeth into considering the history and background.
Review by starbox
16/06/2015
'My life story...It is very exciting. Because, as you know, I am the hero of all Africa', July 26, 2014This review is from: The Last King of Scotland (Kindle Edition)As a female reader who doesn't 'do' war/ politics/ espionage, I wasn't sure I'd like this, but I really enjoyed it, especially the earlier part which others have criticized as 'slow''!When a young Scottish doctor goes out to work in a clinic in 1970s Uganda, he little imagines that a chance meeting will cause the new dictator, Idi Amin, to select him as his personal physician. Foden's descriptions of the country and people really bring the pages alive; later he manages to imbue the horrific Amin with the charisma and charm that keep Dr Garrigan hanging on in the country when his fellow countrymen have fled.' "Please help me", he said again, leaning closer. I could feel his breath in my ear. His voice was slow this time, like dripping honey.My head spun. The softness of his voice had awakened in me an emotion I could hardly begin to understand....The emotion I felt for him was pity, and I knew that the way out of the darkness into which I had allowed myself to fall was to help him.'Although Garrigan is fictitional, he is based - very loosely - around one Bob Astle, a white British associate of Amin, whose complicity in his master's actions is open to debate.I felt I learned a lot from reading this, notably the Entebbe raid, which was just a name to me beforehand. Really gripping.