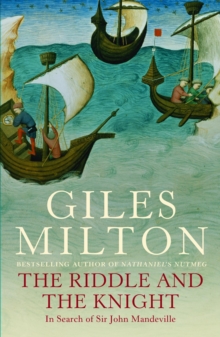 The Riddle and the Knight : In Search of Sir John Mandeville
Paperback
Description
In 1322 Sir John Mandeville left England on a pilgrimage to Jerusalem.
Thirty-four years later, he returned, claiming to have visited not only Jerusalem, but India, China, Java, Sumatra and Borneo as well.His book about that voyage, THE TRAVELS, was heralded as the most important book of the Middle Ages as Mandeville claimed his voyage proved it was possible to circumnavigate the globe.In the nineteenth century sceptics questioned his voyage, and even doubted he had left England.THE RIDDLE AND THE KNIGHT sets out to discover whether Mandeville really could have made his voyage or whether, as is claimed, THE TRAVELS was a work of imaginative fiction.
Bestselling historian Giles Milton unearths clues about the journey and reveals that THE TRAVELS is built upon a series of riddles which have, until now, remained unsolved.
Information
Format: Paperback
Pages: 304 pages, b/w/ integrated
Publisher: Hodder & Stoughton General Division
Publication Date: 01/10/2001
Category: General & world history
ISBN: 9780340819456
Free Home Delivery
on all orders
Pick up orders
from local bookshops
Reviews
Showing 1 - 4 of 4 reviews.
Review by pamplemousse
16/06/2015
Is this a travel book, or a history book? Its not clear if even the author knows. Milton follows in the footsteps of Sir John Mandeville, 14th century world traveller, or possibly charlatan. In fact, so little is known about Sir John that there is some doubt that he existed at all, so the footsteps are very faint and often seem a weak excuse to travel the middle east. But the result is OK and on a par with many similar "micro-histories" written by journalists.
Review by Seajack
16/06/2015
I liked this book more than I thought I would when I bought it.
Review by isabelx
16/06/2015
This book is the story of Giles Milton's travels to Constantinople, Cyprus, Syria, Jerusalem and the Saint Catherine's monastery Sinai desert, as he investigates how much if any of the journey Sir John Mandeville actually made, and tries to solve the riddle of why the book was written at all.The final revelation isn't all that exciting but the journey is interesting, especially when he visits ancient Christian monasteries that have survived against the odds in Muslim lands.
Review by passion4reading
16/06/2015
Legend has it that Sir John Mandeville was a medieval knight who travelled the world in the 14th century and wrote a book about his 34-year-long journey, called The Travels. Regarded as the father of English literature until the Victorian age and then labelled a fraud, journalist Giles Milton sets out to discover how much (or if any) of the historical accounts of towns, monasteries and people is actually true and verifiable.First I have to say that the blurb is, in my opinion, slightly misleading: the claim that the book reveals The Travels to be built on "a series of riddles which have, until now, remained unsolved" makes it sound more sensationalist than it really is, probably in an attempt to attract more readers. The accurate description of the author's following in the footsteps of a forgotten medieval knight, pilgrim and traveller to separate truth from fiction doesn't sound quite so enticing. I have to admit that I probably had something like the riddles in Dan Brown's Da Vinci Code in mind when I bought it, but it's nothing like it. This is a traveller's guide to Constantinople, Cyprus, Syria, Jerusalem and the Sinai Desert in Egypt, both in the present and in Sir John's day. Giles Milton gives us an amusing and engaging tour of these holy sites, managing to bring the past back to life when comparing it with Mandeville's detailed written accounts. Impeccably researched, this reads like a literary detective story and has a few important points to make in calling for religious tolerance besides. The real eye-opener was contained within the epilogue, detailing what far-reaching consequences this slim volume of travel accounts by a long-forgotten knight has had on the entire world. Giles Milton has achieved to clear Sir John Mandeville's name, and it deserves to be more widely known. By publishing this book, the author has undertaken the first step towards achieving it.