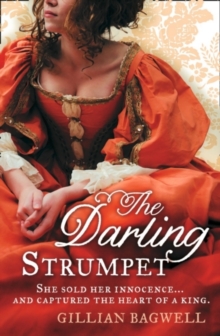 The Darling Strumpet
Paperback
Description
From her beginnings as a humble oyster seller, Nell Gwynn's dazzling rise to fame has gone down in history.
Step into the tumultuous world of Restoration England, and join Nell on her journey from courtesan, to famed actress to King's mistress in a novel that is as captivating as Nelly herself.She sold her innocence...and captured the heart of a king.London, 1660Growing up in the bawdy atmosphere of 17th century Covent Garden, Nell Gwynn is little more than a girl when she enters the world of the courtesan.
But Nell learns the hard way that to be at the mercy of unscrupulous men is no life at all.With London's theatres flourishing, Nell seizes an opportunity to change her luck and takes a job selling oranges at The King's Playhouse on Drury Lane.It isn't long before Nell takes centre-stage herself and her saucy wit and ambitious temperament soon catch the eye of the young King Charles II.
But can she keep him enthralled when the country's finest Ladies are vying for his attentions at court?Nell Gwynn was a darling of the people and the most famous courtesan of her age.
You too will find it impossible to resist her in The Darling Strumpet.
Information
Format: Paperback
Pages: 432 pages
Publisher: HarperCollins Publishers
Publication Date: 01/08/2011
Category: Historical romance
ISBN: 9781847562500
Free Home Delivery
on all orders
Pick up orders
from local bookshops
Reviews
Showing 1 - 5 of 7 reviews.
Previous | Next
Review by souloftherose
16/06/2015
This is Gillian Bagwell's debut novel and it tells the story of Nell Gwynn from when she's 10 years old to her death. Nell is famous for being the mistress of King Charles II but it's also known that Nell was an orange seller and one of the first actresses and Bagwell speculates that before this Nell may well have been a child prostitute. I enjoyed reading about Nell's early years, particularly her time as an actress, although the details given about her time as a prostitute made for uncomfortable reading.As other reviewers have commented, I found the second half of the book rather disjointed. It felt as if the author had wanted to make sure she included all the relevant historical events but it felt like we were just getting brief snapshots of Nell's life rather than a story.
Review by literarytiger
16/06/2015
Nell Gwynn started life as a poor oyster seller near Covent Garden, but died in luxury after having spent many years as one of King Charles II's favourite mistresses. This book tells the story of this dramatic change, following Nell from the time she is 10 years old through to her death. It traverses all of the dramas of the time - the opening and closing of the theatres, wars with the Dutch, the Great Fire of London, the battles over the succession. Although my knowledge of seventeenth century history isn't extensive, this book feels well researched and it is a great story to boot.Naturally, when you need to fit thirty odd years of history into one novel, things do move quite rapidly by necessity. On the one hand it meant that the book never got bogged down - on the other, it felt a little like you were skipping from one year to the next and from one historical event to another. The author uses a good combination of fact and fiction to paint a wonderful picture of the period. In particular her imagining of the theatre and the Kings Company is really wonderful. Nell's meteoric rise as an actress is well portrayed, as is the change in her from street urchin to lady.Naturally, one of the key aspects of this book is the romance and sex. Nell started out as a prostitute and soon became a mistress, so leaving out this aspect would have been false. However, a word of warning - don't give this book to your 10 year old daughter to read! The sex scenes are particularly graphic and very frequent, especially in the first part of the book. I am not at all prudish and enjoy well written sex scenes as much as anyone, but perhaps there were a few too many? It blurred the line for me between good, well research historical fiction and erotic fiction which may have been the intention but perhaps I wasn't fully prepared for it. In any case, I do think this is a good book and I know a lot more about the period than I did before. Well done to Nell for pulling herself up by her bootstraps, grabbing opportunities and learning along the way. And well done to Gillian Bagwell for her novel.
Review by Fluffyblue
16/06/2015
This would have been a five star read but for the rather too graphic (for me) sexual content! Other than that, I found the story of Nell Gwynn to be extremely absorbing. Historically, the story goes through the plague and the Great Fire of London and gives a real flavour of life in London, and various other parts of the country in the 1600's. The writing wasexcellent, very descriptive, but never too flowery for me. This is a thoroughly enjoyable book and well worth a read.
Review by CDVicarage
16/06/2015
As a teenager (and for years afterwards) I read a lot of historical novels and Nell Gwynn has always been a popular character so I was familiar with the basic story of her life, or, at least, the period that she was Charles II's mistress. I think this is the first novel that I have read that is told from Nell's point of view so it covers the time before she met Charles. I very much liked the chapters covering her career in the theatre. I knew, of course, that she was an orange seller, but I had not really realised that she was also an actress (when actresses were first permitted on the English stage). The first half of the book covers Nell's childhood, her time in a brothel and her career in the theatre up until she becomes Charles's mistress, and has plenty of historical and character detail. The second half is more episodic and disjointed. I felt that the author's research was showing too much – as if she had discovered some interesting episodes and was going to use them but didn't manage to make them join up very well. Towards the end every chapter brought a list of the deaths of more of Nell's friends and relations and very little else.
Review by pittpurple
16/06/2015
I really enjoyed this book. I read a lot of historical fiction and this grabbed me from the first chapter - I ended up sitting up late to finish it the next night. I loved her descriptions of the clothing and food, it really swept me up in the era and made it a fun read. A bit r-rated in parts but I don't think it went over the top. Definitely highly recommend this book, it ended too soon for me!
Also by Gillian Bagwell