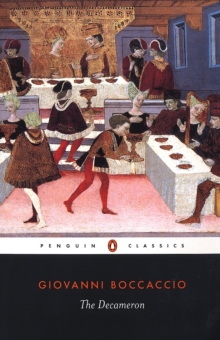 Description
A seminal work of European literature that has inspired writers from Chaucer to Shakespeare, the Penguin Classics edition of Giovanni Boccaccio's The Decameron is translated with an introduction by G.H.
McWilliam.In the summer of 1348, as the Black Death ravages their city, ten young Florentines take refuge in the countryside.
Taken from the Greek, meaning 'ten-day event', Boccaccio's Decameron sees his characters amuse themselves by each telling a story a day, for the ten days of their confinement - a hundred stories of love and adventure, life and death, and surprising twists of fate.
Less preoccupied with abstract concepts of morality or religion than earthly values, the tales range from the bawdy Peronella, hiding her lover in a tub, to Ser Cepperallo, who, despite his unholy effrontery, becomes a Saint.
The result is a towering monument of European literature and a masterpiece of imaginative narrative.
This is the second edition of G.H. McWilliam's acclaimed translation of the Decameron. In his introduction McWilliam illuminates the worlds of Boccaccio and of his storytellers, showing Boccaccio as a master of vivid and exciting prose fiction.Boccaccio (1313-75) was an Italian writer of both verse and prose.
He wrote The Decameron over a period of ten years, and is also the author of Teseide and Filostrato.If you enjoyed The Decameron, you might like Dante's Inferno, also available in Penguin Classics.'McWilliam's finest work, his translation of Boccaccio's Decameron remains one of the most successful and lauded books in the series'The Times
Information
Format: Paperback
Pages: 1072 pages
Publisher: Penguin Books Ltd
Publication Date: 27/03/2003
Category: Classic fiction (pre c 1945)
ISBN: 9780140449303
Other Formats
Paperback from £2.99
EPUB from £1.07
Hardback from £20.95
Free Home Delivery
on all orders
Pick up orders
from local bookshops
Reviews
Showing 1 - 5 of 15 reviews.
Previous | Next
Review by phooky
16/06/2015
Brilliant, funny, compartmentalized, misogynistic, and very, very, very filthy. If you like peculiar Catholic double entendres, you'll particularly enjoy this.
Review by carsonandreas
16/06/2015
Utterly compelling and beautiful classic.
Review by shawnd
16/06/2015
This seemed surprisingly contemporary to me for a book written in the Middle Ages. The stories were short and peppy and reminded me a lot of 1001 Nights, however the story recursion in Nights is missing here, which I think is better. Crisp, telling, with lots of life lessons and morals, it's very good. However the story topics are so similar that it's a little too tight and becomes redundant...I never made it past halfway through the book because I felt I was reading the same story over and over again with different city, character names, but same protagonist and plot.
Review by Anansi_in_Texas
16/06/2015
This is a collection of tales told within a frame story of a group of young people who have fled Florence to avoid the plague.The frame story is quite weak and uninteresting, but the tales are great!
Review by jrcovey
16/06/2015
It's unlikely that I could say anything about the Decameron that hasn't been said before, but I would like to add my voice to the many who have praised the McWilliam English translation. His prose is hilarious where the intent is humourous, formal where appropriate, and in general both idiomatic and clever. The Decameron is a long read but comes served in bite-size narrative chunks, and it is never not entertaining. This might be one of my favourite Penguins ever.I started reading this after finishing the Penguin edition of Jacobus de Voragine's The Golden Legend, with which it shares many plot structures and twists. But whereas the lives of the saints as told in the Legend are all within the framework of fraught religion, Boccaccio's basic framework is unfraught sex—definitely more fun to read.My only slight regret is that I wish I'd read Dante prior to this, just to give me more of the source background. But I will for sure be adding The Divine Comedy to my reading agenda for the near future.