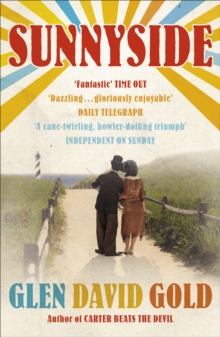 Description
From the author of CARTER BEATS THE DEVIL comes a panoramic tale of power and stardom, ambition and dreams that reaches from California in 1916 to the battlefields of France and the icy wastes of northern Russia.
At the heart of its enthralling cast of characters - which includes a thieving Girl Scout, Mary Pickford, a charismatic British general and even the dog Rin Tin Tin - lies the troubled genius that was Charlie Chaplin.Here America debuts on the world stage in the Great War, Hollywood blossoms into a global phenomenon, and the cult of celebrity is born.
Here, in a novel as darkly comic as it is thrilling, the modern age dawns.
Information
Format: Paperback
Pages: 576 pages, None
Publisher: Hodder & Stoughton General Division
Publication Date: 01/03/2010
ISBN: 9780340829837
Free Home Delivery
on all orders
Pick up orders
from local bookshops
Reviews
Showing 1 - 1 of 1 reviews.
Review by phoebesmum
16/06/2015
You know the man who speed-read 'War and Peace' ("It's about Russia")? Well, this is about Charlie Chaplin. Why would anyone want to write a novel about Charlie Chaplin, you may ask, and I can only answer, it beats the hell out of me. You may also ask why anyone would then try to read it. The answer to that one is that I loved Gold's previous book, 'Carter Beats the Devil': it's one of the few books that I've wished, when I finished it, I could go back and read for the first time. Truthfully, it's not entirely about Chaplin: there are two other story strands, one based around Leland Duncan, whose claim to fame is that he brought the world Rin Tin Tin (true confession: I ploughed dry-eyed through reams of poverty, depression, despair, the horrors of the battlefield and an unfortunate soldier who gets a pine cone shoved up his arse, but wept buckets over the death of a dog. I'm not sure if that says more about me, or about the author). The other strand concerns a fictitious – I assume – character named Hugo Black, who begins his life with intellectual pretensions, has the misfortune to be shipped off to the Russian Front, and ends up horribly dead. There may or may not be a moral to be learned from this - put like that, it sounds a bit like a Ruthless Rhyme. How do the three strands tie together? Tenuously, at best; arguably, not at all.When I worked in the rare books trade, we used to play a game of 'authors who should have left well alone'. Françoise Sagan generally got a mention here, as did Joseph Heller. On the showing of 'Sunnyside', Glen David Gold may soon be joining the list.
Also by Glen David Gold