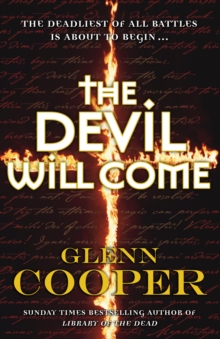 The Devil Will Come
Paperback
Description
A terrifying secret. A shocking discovery has been made deep within Rome's ancient catacombs.
One that the Vatican is determined must never be made public - for the sake of all mankind.
A deadly conspiracy. But there are others who want to keep the truth hidden for far more sinister reasons, others who believe that not only are the church and the faith of a billion at threat, but life as we know it is about to be destroyed - for ever. And only one woman - a young Italian nun - can save us...The nightmare is about to begin.
Information
Format: Paperback
Pages: 448 pages
Publisher: Cornerstone
Publication Date: 01/10/2011
ISBN: 9780099545736
Free Home Delivery
on all orders
Pick up orders
from local bookshops
Reviews
Showing 1 - 3 of 3 reviews.
Review by TracyCampbell
16/06/2015
This is a great book that moves between present time, 15th century England and biblical Roman times. This might sound confusing, but Cooper uses real events from history and seamlessly ties all three periods together. I could not put it down! The story is about a young female archaeology student who is on the brink of discovering an historic tomb. The tomb contains evidence of a secret group of people. The story takes off and carries you throughout time on an incredible and amazing journey. I could not put this book down and have already passed it on twice. This is a definite must read if you love a good mystery!
Review by Speesh
16/06/2015
That feeling that one day you're gonna want those hours back. The hours you spent on this one after the first time it was clear that this one turned on nasty people, with tails. After you immediately then thought, 'well, how do they sit down?' 'Do they only 'mate' with others with tails?' 'How do they find them?' Etc.<br/><br/>That.<br/><br/>You can dress it up all you like with scenes set in the Roman period of Nero's Emperorship (yes, he was as well), or sections based around (yes, him too) Christopher (though acting more like Philip) Marlowe and of course, his fantastic play 'Dr.Faustus'. Which, coincidentally, I studied at school and can actually still quote, for example "for the vain pleasure of four and twenty years, hath Faustus lost eternal joy and felicity". Which I think of often, now that I live in Denmark, because the Danish method of counting, from twenty onwards, is 'one and twenty, two and twenty, three and twenty, four and twenty...' and so on. You can dress it up all you like but what you've still got is a tale, set in Italy, in Rome, of a Nun who used to be an archaeologist, called in to investigate a find in the catacombs, of people, from the time of the birth of Christianity, who have tails. And because they are skeleton remains and it's obvious they have tails, so they are boney tails, you wonder again, 'how did they sit down?' What kind of trousers have they got on, that must clearly hide the fact of the afore-mentioned tail?' Why are people with tails all, always nasty? Because they have tails?' Instead of getting yourself involved in the book, in what I guess he would really want you to get yourself involved in.<br/><br/>To be brutally fair, there are passages that work well, that pack a punch, that at least make you curious about what might come next. And any book that has Christopher Marlowe in it, is worth having a look at (no, he wasn't. Shakespeare wrote Shakespeare). There could have been some other interesting angles developed. Actually, the sections involving Marlowe and Nero are reasonably interesting. But as such, are a missed opportunity to make the sections, the main part of the story, set in the here and now, more powerful. The story in the here and now is a bit of a let-down in comparison, and the book kind of peters out into a disappointingly run of the mill, race against time to prevent disaster.<br/><br/>Read if it's one of the three books you have with you on your desert island. Otherwise, don't.
Review by ChristineEllei
27/08/2015
As a young archaeology student Elisabetta Celestino discovers an interesting array of symbols at a catacomb adjacent to the Vatican. Needing Vatican approval to go ahead with her research and reulting thesis, she is informed by her professor that no such approval will be forthcoming. Ten years later Elisabetta, now a nun, is contacted by the same professor to ask for her help with an excavation of the same catacombs. Reluctantly she agrees. What she discovers not only rocks her faith but could also be the end of all religion and most definitely the end of her beloved Catholic church.<br/><br/>Mr. Cooper has developed a tried and true formula for his books as he tells the story through three time periods. In this case Nero's Rome, Marlowe's England and current day. Rather than becoming tired and cookie cutter Mr. Cooper makes his formula work in all four of his books. Strange as it may sound, glimpses of the past to fill in the blanks moves the story along very nicely rather than causing any delay in the ongoing plot. Doing this also allows the reader to have a few secrets the characters have not yet discovered. This is an interesting "tool" in his writing style. It's quite fun! I have thoroughly enjoyed his books from day one, starting with Library of the Dead. The Devil May Come is no exception.<br/>