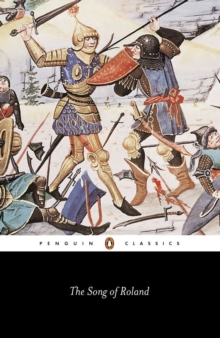 The Song of Roland
Paperback
Description
On 15 August 778, Charlemagne's army was returning from a successful expedition against Saracen Spain when its rearguard was ambushed in a remote Pyrenean pass.
Out of this skirmish arose a stirring tale of war, which was recorded in the oldest extant epic poem in French.
The Song of Roland, written by an unknown poet, tells of Charlemagne's warrior nephew, Lord of the Breton Marches, who valiantly leads his men into battle against the Saracens, but dies in the massacre, defiant to the end.
In majestic verses, the battle becomes a symbolic struggle between Christianity and paganism, while Roland's last stand is the ultimate expression of honour and feudal values of twelfth-century France.
Information
Format: Paperback
Pages: 224 pages
Publisher: Penguin Books Ltd
Publication Date: 25/01/1990
Category: Poetry by individual poets
ISBN: 9780140445329
Free Home Delivery
on all orders
Pick up orders
from local bookshops
Reviews
Showing 1 - 2 of 2 reviews.
Review by veevoxvoom
16/06/2015
The Song of Roland is a medieval epic poem detailing the feats of Charlemagne. It is, according to Wikipedia, the oldest surviving example of French literature. In The Song, Charlemagne's Franks go to battle against the Spanish Saracens, a battle precipitated by a traitor in Charlemagne's midst.Really, this is an epic about Christians vs. Muslims. It was written around the time of the Crusades and serves as an excellent piece of propaganda about the glory of Christianity and defeating "the pagans." Like every battle epic out there, the protagonists are pure and manly and valiant, their testosterone flying off the page. The Saracens, of course, are ignorant villains. This is medieval literature, remember, so one can't expect too much in the way of cultural understanding. For example, the Muslims here worship three gods: Muhammad, Apollo, and Tervagant. Um, wrong.But with all that said, The Song of Roland is a pretty enjoyable read. The translation I have by Glyn Burgess is accessible and plain, which makes it a welcome sight knowing the headache it usually takes for me to read really old works. The language is simple but effective, and if you're looking for dramatic, chivalric values on the battlefield, you can't go wrong.Questionable politics. Decent battle epic.
Review by StevenTX
16/06/2015
The Song of Roland is an epic poem celebrating the heroic death of Roland, a Frankish knight and nephew of Charlemagne, in a battle against Saracen forces in Spain in 778. The poem is loosely based on historical events, with the scale and importance of the battle being enlarged many-fold until it becomes a titanic and conclusive engagement between the forces of Christianity and Islam.The poem begins with Charlemagne having campaigned for seven years in Spain, subduing all the country except the city of Saragossa and its king Marsile. Knowing that his forces cannot stand against the Franks, but that his enemy is eager to end the war and return home, Marsile pretends to submit to Charlemagne, giving him gifts and hostages. But Marsile finds an uexpected ally in Charlemagne's camp, the emperor's brother-in-law Ganelon who nurtures a deep hatred for his own stepson, Roland, who is the greatest and most feared of the Frankish knights. Ganelon helps Marsile plan an ambush of the Frankish army's rear guard as it marches back to France, then arranges for Roland to be in command of the rear guard detachment.The Song of Roland is contemporary with the development of the Arthurian legends, and there are some obvious similarity in the themes of chivalry and the stylized descriptions of knightly combat. The Roland epic, however, bears more resemblance to The Iliad, with its prolonged and gory battle scenes, than the more personal Arthurian Romances. Unfortunately, there are no characters in The Song of Roland who even approach the depth of an Yvain, a Lancelot, or a Gawain, to say nothing of an Achilles or Odysseus. Roland, his compatriots, and his enemies are all simply straightforward fighting machines, purely good or purely evil depending on the side for which they are fighting.The translation by Glyn S. Burgess into modern English is very smooth and easy to read. This is an important work of literature for historical reasons, even if it isn't exceptional by aesthetic standards, and it's short enough to read in an afternoon.