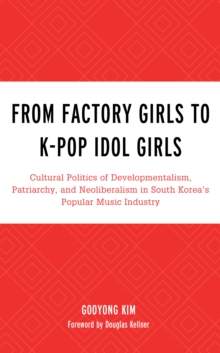 From Factory Girls to K-Pop Idol Girls : Cultural Politics of Developmentalism, Patriarchy, and Neoliberalism in South Korea's Popular Music Industry
Hardback
Description
Focusing on female idols' proliferation in the South Korean popular music (K-pop) industry since the late 1990s, Gooyong Kim critically analyzes structural conditions of possibilities in contemporary popular music from production to consumption.
Kim contextualizes the success of K-pop within Korea's development trajectories, scrutinizing how a formula of developments from the country' rapid industrial modernization (1960s-1980s) was updated and re-applied in the K-pop industry when the state had to implement a series of neoliberal reformations mandated by the IMF.
To that end, applying Michel Foucault's discussion on governmentality, a biopolitical dimension of neoliberalism, Kim argues how the regime of free market capitalism updates and reproduces itself by 1) forming a strategic alliance of interests with the state, and 2) using popular culture to facilitate individuals' subjectification and subjectivation processes to become neoliberal agents.
As to an importance of K-pop female idols, Kim indicates a sustained utility/legacy of the nation's century-long patriarchy in a neoliberal development agenda.
Young female talents have been mobilized and deployed in the neoliberal culture industry in a similar way to how un-wed, obedient female workers were exploited and disposed on the sweatshop factory floors to sustain the state's export-oriented, labor-intensive manufacturing industry policy during its rapid developmental stage decades ago.
In this respect, Kim maintains how a post-feminist, neoliberal discourse of girl power has marketed young, female talents as effective commodities, and how K-pop female idols exert biopolitical power as an active ideological apparatus that pleasurably perpetuates and legitimates neoliberal mantras in individuals' everyday lives.
Thus, Kim reveals there is a strategic convergence between Korea's lingering legacies of patriarchy, developmentalism, and neoliberalism.
While the current K-pop literature is micro-scopic and celebratory, Kim advances the scholarship by multi-perspectival, critical approaches.
With a well-balanced perspective by micro-scopic textual analyses of music videos and macro-scopic examinations of historical and political economy backgrounds, Kim's book provides a wealth of intriguing research agendas on the phenomenon, and will be a useful reference in International/ Intercultural Communication, Political Economy of the Media, Cultural/ Media Studies, Gender/ Sexuality Studies, Asian Studies, and Korean Studies.
Information
Format: Hardback
Pages: 192 pages
Publisher: Lexington Books
Publication Date: 17/12/2018
Category: Rock & Pop music
ISBN: 9781498548823
Also in the For the Record: Lexington Studies in Rock and Popular Music series | View all