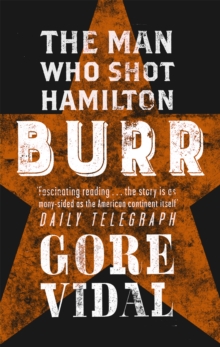 Burr : Number 1 in series
Paperback
Description
Gore Vidal's classic novel of Aaron Burr - the man who shot Alexander Hamilton. In 1804, Colonel Aaron Burr, Vice-President of the United States, shot and killed Alexander Hamilton in a duel. Three years later, on the order of President Thomas Jefferson, he was tried for treason: for plotting to dismember the United States. Gore Vidal, romping iconoclastically through American history, debunks, in this historical novel of Burr's life, the common and casually held notion of the man as a scoundrel and an adventurer. Instead he appears as one of the 'host of choice spirits' forced to live among coarse, materialistic, hypocritical people ? among them Jefferson and Hamilton. Here, the latter appears as a power-hungry 'parvenu' from the West Indies and the former as a semi-literate slave-owning tyrant.
American politics, suggests Vidal, had a penchant for the vulgar. Even then. Veering backwards to the revolution and the early days of the republic, stopping at dinner-parties on the way, and reaching forward to the future, BURR is a novel about treason, both the particular and in general. For what, asks Vidal, really belongs to whom?What properly belongs to the Constitution, to the nation, to the family ?even, intriguingly, to novelists and historians?
Information
Format: Paperback
Pages: 512 pages
Publisher: Little, Brown Book Group
Publication Date: 02/04/1994
Category: Historical fiction
ISBN: 9780349105314
Free Home Delivery
on all orders
Pick up orders
from local bookshops
Reviews
Showing 1 - 1 of 1 reviews.
Review by thorold
16/06/2015
This does have a very 1970s feel when you read it nowadays, but that isn't necessarily a bad thing. We need a bit of refreshing iconoclasm from time to time.Vidal is out to make us look a bit more critically at some of the sacred cows of US history, which he does by telling the main story through the rather Flashmanesque voice of the elderly Aaron Burr. This works well, but I was a bit less comfortable with the structural device of having Burr dictate his memoirs to the young law-clerk and would-be journalist Schuyler, so that we effectively alternate between Burr's voice and Schuyler's. This allows Vidal to give us a bit more perspective about what other people thought of Burr, and what New York was like in the 1830s, but it means that he has to manage a lot of transitions in and out of Burr's narrative, which can't help becoming rather repetitive. We get rather more than we would like of the dull story of Schuyler and his girl, and far too many throwaway jokes for the modern reader about pigs in the streets of Manhattan. I did feel that there's something to be said for Scott's approach of banishing the secondary narrator to the first and last chapters. Sadly, Vidal evidently shares Scott's conviction hat a book has to have bulk on the shelf if you want readers to take it seriously, so we do get quite a bit of padding and recycling along the way. Paper must have been cheap in the seventies.Structural quibbles aside, Vidal does a very good job of guiding the reader through the complexities of American politics in the early days of the republic without a lot of intrusive explanation. And we do get to have quite a bit of fun on the way. So why not?
Also in the Narratives of Empire series | View all