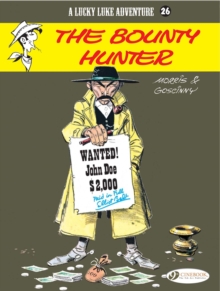 Lucky Luke Vol.26: the Bounty Hunter
Paperback / softback
Illustrated by

Morris
Description
When a huge bounty is posted on a Cheyenne man for the apparent theft of a pedigree horse, the bounty hunter Elliot Belt will stop at nothing to pocket it-not even at triggering a new Indian war if he has to.
Lucky Luke must juggle keeping him in check, appeasing the irate Cheyenne, and trying to save the suspected thief from Old West-style summary justice.
A cheerful homage to the golden age of Hollywood westerns.