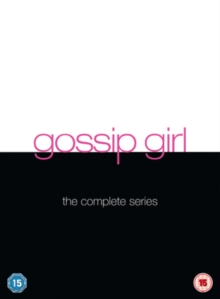 Gossip Girl: The Complete Series
DVD
Description
Every episode from all six seasons of the teen drama based on the novels by Cecily Von Ziegesar.
The series revolves around a group of teenagers growing up in Manhattan who discover the latest on relationships, friendships and jealousy through a weblog kept by the all-knowing, yet totally secretive, Gossip Girl (voice of Kristen Bell).
The episodes comprise: 'Pilot', 'The Wild Brunch', 'Poison Ivy', 'Bad News Blair', 'Dare Devil', 'The Handmaiden's Tale', 'Victor/Victrola', 'Seventeen Candles', 'Blair Waldorf Must Pie!', 'Hi, Society', 'Roman Holiday', 'School Lies', 'A Thin Line Between Chuck and Nate', 'The Blair Bitch Project', 'Desperately Seeking Serena', 'All About My Brother', 'Woman On the Verge', 'Much 'I Do' About Nothing', 'Summer, Kind of Wonderful', 'Never Been Marcused', 'The Dark Night', 'The Ex Files', 'The Serena Also Rises', 'New Haven Can Wait', 'Chuck in Real Life', 'Pret-a-Poor-J', 'There Might Be Blood', 'Bonfire of the Vanity', 'The Magnificent Archibalds', 'It's a Wonderful Life', 'O Brother, Where Bart Thou?', 'In the Realm of the Basses', 'Gone With the Will', 'You've Got Yale!', 'Carnal Knowledge', 'The Age of Dissonance', 'The Grandfather', 'Remains of the J', 'Seder Anything', 'Southern Gentlemen Prefer Blondes', 'The Wrath of Con', 'Valley Girls', 'The Goodbye Gossip Girl', 'Reversals of Fortune', 'The Freshmen', 'The Lost Boy', 'Dan de Fleurette', 'Rufus Getting Married', 'Enough About Eve', 'How to Succeed in Bassness', 'The Grandfather: Part 2', 'They Shoot Humphreys, Don't They?', 'The Last Days of Disco Stick', 'Treasure of Serena Madre', 'The Debarted', 'The Hurt Locket', 'The Lady Vanished', 'The Sixteen Year Old Virgin', 'The Empire Strikes Jack', 'Inglourious Bassterds', 'The Unblairable Lightness of Being', 'Dr. Estrangeloved', 'It's a Dad, Dad, Dad, Dad World', 'Ex-Husbands and Wives', 'Last Tango, Then Paris', 'Belles de Jour', 'Double Identity', 'The Undergraduates', 'Touch of Eva', 'Goodbye, Columbia', 'Easy J', 'War at the Roses', 'Juliet Doesn't Live Here Anymore', 'The Witches of Bushwick', 'Gaslit', 'The Townie', 'The Kids Are Not All Right', 'Damien Darko', 'Panic Roomate', 'It-Girl Happened One Night', 'While You Were Sleeping', 'Empire of the Son', 'The Kids Stay in the Picture', 'Petty in Pink', 'The Princesses and the Frog', 'Shattered Bass', 'The Wrong Goodbye', 'Yes, Then Zero', 'Beauty and the Feast', 'The Jewel of Denial', 'Memoirs of an Invisible Dan', 'The Fasting and the Furious', 'I Am Number Nine', 'The Big Sleep No More', 'All the Pretty Sources', 'Rhodes to Perdition', 'Riding in Town Cars With Boys', 'The End of the Affair?', 'Father and the Bride', 'G.G.', 'The Backup Dan', 'Crazy, Cupid, Love', 'Cross Rhodes', 'The Princess Dowry', 'Con Heir', 'It Girl, Interrupted', 'Salon of the Dead', 'Despicable B', 'Raiders of the Lost Art', 'The Fugitives', 'The Return of the Ring', 'Gone Maybe Gone', 'High Infidelity', 'Dirty Rotten Scandals', 'Portrait of a Lady Alexander', 'Monstrous Ball', 'Where the Vile Things Are', 'Save the Last Chance', 'It's Really Complicated', 'The Revengers' and 'New York, I Love You XOXO'.
Information
Format: DVD
Region: 2
Certification: (15)
EAN: 5051892123785
Catalogue number: 1000362381
Studio: Warner Bros. Home Ent.
Release date: 18/02/2013
Genre: Drama
Colour: Colour
Free Home Delivery
on all orders
Pick up orders
from local bookshops