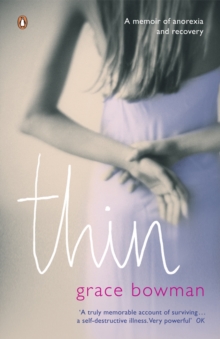 Description
Bright, popular, pretty and successful, Grace Bowman had the world at her feet.
So what drove her to starve herself nearly to death at the age of 18? And what, more importantly, made her stop? A grippingly honest account of life with anorexia nervosa, A Shape of My Own is Grace's hearbreaking, shocking and, finally, inspirational memoir.
An extraordinary story, it is also a common one - is there a woman in the western world who has a normal relationship with food?
A compulsive read, essential for anyone hoping to understand more about eating disorders and overcoming addiction.
Information
Format: Paperback
Pages: 304 pages
Publisher: Penguin Books Ltd
Publication Date: 25/01/2007
Category: Autobiography: general
ISBN: 9780141022840
Free Home Delivery
on all orders
Pick up orders
from local bookshops
Reviews
Showing 1 - 3 of 3 reviews.
Review by Lazy_Lauren
16/06/2015
Pretty good as far as helping the average joe understand the thought processes of anorexia, however gets very analytical and the author seems to end up contridicting herself over the reasons behind the disease.
Review by SmithSJ01
16/06/2015
'Thin' is very different from what I was expecting. I have read a lot of different memoirs over the years dealing with differing aspects of people's lives and it's nice when you come along different ones along the way. This is one of them. It reads as a cross between research, autobiography and reference but with a young woman's emotion in there for good measure.I think this was published in hard back just before turning 30, so what a milestone that would've been. There is only one criticism of the book that I have and that's at times you don't really get to see the harshness of the reality of society - I can imagine her friends being accepting of her but she never discusses how people responded to her for example on holiday in her swimsuit.It is extremely well written and I was actually able to sit and read it in one sitting, I do confess to skipping the playscripts as I didn't like those bits which is why I have given it 4 stars instead of 5. As I haven't had any personal involvement with eating disorders I can't confirm how accurate it is, all I can say is I found it interesting and informative.
Review by JessicaLouise23
16/06/2015
I've seen this book around for a few years now and I've wanted to read it for a while as I'm very interested in all books to do with anorexia. I finally brought this the other week and read it soon after and I was really impressed. This is a memoir by Grace Bowman who developed anorexia nervosa at the age of 18. Grace was a pretty popular 18 year old who decided to go on a diet before heading off to university. She starts the diet, and finds that she doesn't want to stop and then can't stop and soon drops to just under 6 stone without really understanding how or why it's happened and why she can't seem to eat. As the story goes on you find out what Grace believes lead to her anorexia and you get to follow her recovery out of this self destructive illness. This was an honest moving memoir that I would recommend to anyone going through this illness or to anyone who just wants to understand. I found myself tearing up a few times and cheering Grace on as she started her tricky first steps to recovery. A brilliant emotional read with a hopeful ending and powerful message. 4 stars.