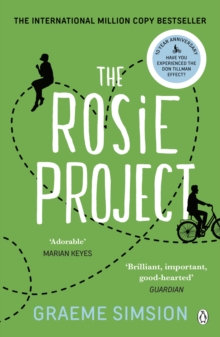 The Rosie Project : Don Tillman 1
Paperback
Description
The Rosie Project by Graeme Simsion is a story about love, life and lobster every Tuesday...'Marvellous' John Boyne'Original, clever and perfectly written' Jill Mansell'Adorable' Marian Keyes'An upbeat, quirky, impertinent gem of a read' Chris Cleave'I'm not good at understanding what other people want.' 'Tell me something I don't know . . .' Love isn't an exact science - but no one told Don Tillman.
A thirty-nine-year-old geneticist, Don's never had a second date.
So he devises the Wife Project, a scientific test to find the perfect partner.
Enter Rosie - 'the world's most incompatible woman' - throwing Don's safe, ordered life into chaos.
But what is this unsettling, alien emotion he's feeling? 'Don Tillman is one of the most endearing, charming and fascinating literary characters I have met in a long time' The Times'Hilarious, unlikely and heartbreaking' Easy Living'Touching and laugh-out-loud funny - think The Curious Incident of the Dog in the Night-time meets Silver Linings Playbook' Stylist'Funny, endearing, and pure, wonderful escapism' Independent 'A sweet, funny rom-com . . . You'll be willing Don and Rosie on every step of the way' Marie Claire'Original, charming and very funny' Woman & Home 'A comic triumph: clever, humane and tears-in-your-eyes funny.
But best of all, The Rosie Project is a madly romantic love story' Liz Jensen, author of The Rapture 'I couldn't put this book down.
It's one of the most quirky and endearing romances I've ever read.
I laughed the whole way through. And now I want to meet Don' Sophie KinsellaWith the charm of Mark Haddon's The Curious Incident of the Dog in the Night-Time and the romance of David Nicholls' One Day, The Rosie Project by Graeme Simsion is both funny and endearing - and is set to become the paperback of 2014.Graeme Simsion is a full-time writer.
Previously an IT consultant and educator, he wrote his first book in 1994 (the standard reference on data modelling, now entering its fourth edition), and is married to Anne, a professor of psychiatry who writes erotic fiction.
They have two children.
Information
Format: Paperback
Pages: 368 pages
Publisher: Penguin Books Ltd
Publication Date: 02/01/2014
ISBN: 9781405912792
Other Formats
EPUB from £3.99
eAudiobook MP3 from £8.00
Free Home Delivery
on all orders
Pick up orders
from local bookshops
Reviews
Showing 1 - 5 of 5 reviews.
Review by heterocephalusglaber
16/06/2015
The perfect absorbing light read. Follows the story of a man who is intelligent, good-looking, a good cook, and well-off - but socially is almost illiterate. The implication at the start of the book is that he has some form of Asperger syndrome or a related condition, but the book focuses on his attempts to become more socially aware and available, without losing his inherent personality traits and quirks.Don made a sympathetic main character - you can appreciate his struggle to "fit in" with a society designed around what seems like an almost impenetrable maze of social mores which can be hard enough to traverse even if one has the correct equipment. I found Rosie pretty enjoyable too, though occasionally she seemed to change her approach to Don very suddenly, without any real support from the text. I wonder if this is a side effect of this having originally been a screen-play, as it would probably come across more naturally on the screen. I also think the text glosses over some of the other difficulties faced by an adult in his late thirties embarking on his first romantic relationship - with all the emotional and mental change that would require. I certainly didn't want this tale to become maudlin - which exploring this area would run the risk of - but on the other hand I feel like any potential partner for a man in that position would have those thoughts and that it would probably be natural for it to come up in conversation at some point. However, it never really does. Rosie's reservations about the relationship seem more the general reservations that someone with trust issues would have, rather than those centred on the particular situation. But it's a minor quibble.Anyway - this was a fun, engaging, and romantic read, perfect for losing yourself in for a couple of hours! I'm intrigued to see how the proposed film works out.
Review by PennyAnne
16/06/2015
I adored this book! Very funny, but in a very gentle way. The author loves and respects his characters and as they grow on you, you can't help but want the obvious outcome - a lovely and very enjoyable story.
Review by CaroPi
16/06/2015
I most admit that I really like the book. Easy reading, distracts you, and makes you smile and cry. The characters are very well develop, and despite the fact that the plot is quite obvious it makes you spend the time in a nice way.
Review by infjsarah
16/06/2015
This is just a light romantic read which will make you smile.It's nothing profound and that it was intended as a film stands out a mile.But if you want a nice easy fun time to relax, its perfect.
Review by Roseredlee
27/08/2015
This is the second book I have read this week that reminded me strongly of a tv show - in this instance, Big Bang Theory, and in particular, Sheldon Cooper. For Simsion's Don is a science geek somewhere along that same Asperger's spectrum. According to the Acknowledgements, this book had a lengthy gestation, many midwives, and began as a scriptwriting exercise for its creative writing student creator. I think this shows, unfortunately. i can forgive it for not being as funny as Big Bang (few things are, let's face it); I did smile at the various social awkwardnesses created by Don's inability to read situations. but the whole thing is so contrived, and the major plot thread, a quest for a genetic father revealed as the climax on the last page but obvious to any parent of children over the age of 12 from the outset, was tedious in the extreme. Also I still ended up questioning the power even of love in a romantic comedy novel to have wrought such a miracle as the change in Don, which is a pretty fundamental flaw. So if you haven't forked out for this yet, I'd stick with Sheldon and the girlfriend discovered for him by his friends by computer dating matching, Amy Farrah Fowler - they're more believable and a lot funnier.