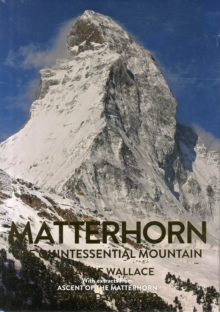 Matterhorn : The Quintessential Mountain
Hardback
Description
Commemorating the 150th anniversary of the first climb of the Matterhorn by Edward Whymper and his party in July1865, this large format pictorial book features over 100 pages of photographs of the world's most recognisable mountain, together with tantalising extracts from Whymper's own book The Ascent of the Matterhorn, and the details of Graeme Wallace's attempt to traverse the summit up via the Lion Ridge in Italy and down the Hornli Ridge in Switzerland, 150 years later in 2015.
Back in 1865, a series of remarkable coincidences brought together several ambitious British mountaineers in a race to first ascend the 4478 metre Matterhorn.
Referred to as The Devil's Mountain and believed to be the place where only spirits dwelt, the Matterhorn was considered un-scalable.
While the hurriedly formed British team tackled the unknown north-east ridge, a well-funded Italian team, with a two day head start, approached up via the south-west ridge.
The race to finally conquer the mighty Matterhorn was truly on.Success was followed by disaster and despite becoming the most successful mountaineer of his day, stories of triumph, transgression and tragedy would follow Whymper for the rest of his 46 years of life.
Information
Format: Hardback
Pages: 270 pages
Publisher: Lomond Books
Publication Date: 01/10/2015
Category: Individual photographers
ISBN: 9780957084490