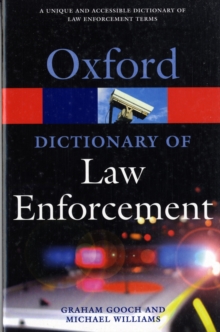 A Dictionary of Law Enforcement
Paperback
Description
A Dictionary of Law Enforcement is the only dictionary available with a primary focus on UK law enforcement terms.
Succinct and practical in its approach, it contains over 3,400 entries covering ever aspect of this diverse field, including terms related to law, pathology, forensic medicine, accountancy, insurance, shipping, commerce and trade, criminology, and psychology.
Entries are supported by a wealth of practical information, including (where appropriate) citations and references to statutes and legislation.
In addition to the definitions, the dictionary also contains five useful appendices: Abbreviations and Acronyms, Recordable Offences, Disclosure Code, Disclosure Guidelines and Disclosure Protocol.
Written by two former police officers, both now lecturers in law and criminal investigation, the dictionary fills a significant gap in the law market and will be invaluable to police officers and trainee officers, students and lecturers of criminology, criminal justice, and police studies, and other professionals needing clear definitions of law enforcement terms.
Information
Format: Paperback
Pages: 428 pages
Publisher: Oxford University Press
Publication Date: 01/08/2007
Category: Police & security services
ISBN: 9780192807021
Free Home Delivery
on all orders
Pick up orders
from local bookshops
Reviews
Showing 1 - 1 of 1 reviews.
Review by PhillipTaylor
16/06/2015
A GREAT DICTIONARY TO DIP INTO FOR LAW ENFORCEMENTThis new publication is an adaptation of what many lawyers will remember as 'A Dictionary of Law' some years ago. Oxford University Press have excelled with this practical, succinct pocket dictionary which is an essential reference resource to dip into involving all matters criminal.The Oxford Paperback Reference series remain the world's most trusted reference books. This new title on law enforcement fits in nicely with current trends in the criminal justice process at whatever level of involvement. The reader encounters words they may be unfamiliar with regularly as law enforcement becomes increasingly a multi-agency activityGraham Gooch and Michael Williams have, between them, over sixty years' experience of the investigation and prosecution of serious crimes which meets the new needs of our law enforcement community. The original law dictionary has now been expanded to meet the needs of those enforcing the law. Gooch and Williams succeed with their aim in providing a clear definition of the terms which are new and specific to law enforcement. There are also more detailed explanations where necessary with key cases and statutory provisions cited where appropriate.This dictionary has a very wide application because so many potential readers will find it of use as law enforcement becomes a major significant area of applied criminology. Years ago when I wrote a number of textbooks on Criminology and lectured the subject at University I was in need of a pocket book of this size and detail to assist myself as well as the students whenever I needed to find a definition of worth. Gooch and Williams have come up with a work of worth which blends the difficulties of terms with an ease of understanding which clients and all associated with criminal justice management would welcome.The scope of the book is also wide, providing a key reference source for students in further and higher education, with those studying for professional or vocational qualifications and the wider public. I was particularly taken with the clarity of explanation of what I term the 'scientific solutions' where I can be confronted with trying to explain in very simple English what DNA is, or what, say, 'fingertip bruising' is. The work put into this dictionary should not be underestimated. It caters for the professional and the novice and it shows the way forward for a modern reference manual covering the framework we now have for law enforcement in all its new guises as regular bouts of criminal justice legislation are passed and alternative methods sought to deal with the perennial problems affecting criminal justice which tend to repeat themselves throughout the ages.This is a book for the twenty-first century and has excellent supplementary material including abbreviations and acronyms, recordable offences, disclosure code and disclosure guidelines. For instance, just take a quick flick through it and go to 'diving licence' which gives the reader exactly what he or she may be looking for regarding factual content when the memory can sometimes play tricks during a pressured conference, and you get the countries where our valid licences apply- not a piece of information I would normally have at my fingertips.The new direction in which this and, I hope, other OUP dictionaries will go in the future offering the one stop shop for criminal justice definitions is to be welcomed. The unique team of a policeman and an intelligence officer compiling such a work is to be commended as the work of the two agencies tend to become ever closer because of the shrinking of the old 'splendid isolation' of our international bodies tasked with law enforcement towards a new age of threat which is far more legal than military in its makeup and needs good legal resources for assistance. It is to be hoped that the dictionary will be regularly revised with new legislation and it becomes popular as an e-book which readers can view by visiting their main websitesThank you, Messrs Gooch and Williams for setting a modern precedent with your endeavours- Dr Johnson would be very proud of you!
Also in the Oxford Quick Reference series | View all