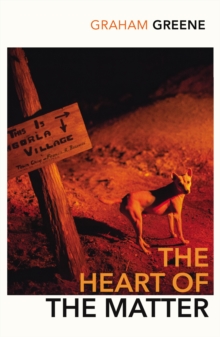 The Heart of the Matter
Paperback
Description
WITH AN INTRODUCTION BY JAMES WOOD. Scobie, a police officer serving in a wartime West African state, is distrusted, being scrupulously honest and immune to bribery.
But then he falls in love, and in doing so he is forced to betray everything he believes in, with drastic and tragic consequences.
Information
Format: Paperback
Pages: 288 pages
Publisher: Vintage Publishing
Publication Date: 07/10/2004
ISBN: 9780099478423
Other Formats
EPUB from £4.99
Hardback from £19.95
eAudiobook MP3 from £16.76
Paperback / softback from £9.95
Free Home Delivery
on all orders
Pick up orders
from local bookshops
Reviews
Showing 1 - 5 of 7 reviews.
Previous | Next
Review by madhuri_agrawal
16/06/2015
An interesting read by all means. A story of an honest man, caught under the weight of his sense of duty. It is touching to see his terrible loneliness, even amidst two women who loved him. In Graham's words, you can feel his hopelessness and isolation, and a desperate need to share his predicament.
Review by akfarrar
16/06/2015
About three weeks ago I picked up 'The Heart of the Matter' – Greene's novel of 1948 set in West Africa during the Second World War.I first read it over 30 years ago, and it has everything I remember – but a lot more.Perhaps because I've been working on 'The Taming of the Shrew' at the same time – elements of religion, marriage and identity have stood out in focus in a way I don't remember. The Shrew is a play all about seeking salvation through appropriate partnering – The Heart of the Matter, how salvation is individual and not to be found in others.This was a pretty dismal, depressing read the first time – it touched on the meaning of existence and right way to live – on lovelessness and the unforgivable: What I hadn't tasted then was the existential angst, the deepness of the despair and the strength of individual choice.Major Scobie, our everyman, is a policeman with a wife – respectability personified. He is hated by the ex-pats because he isn't corrupt – and loved by the Syrian dealer in corruption for the same reason. His lack of corruption perversely makes him untrustworthy to his own kind – and his career suffers as a consequence. The only true friendship comes from the Syrian, Yusef – very not British – and it is a friendship Scobie can never accept.It is Scobie's fall from grace we follow – in the true meaning of the words: He is not ruined in any earthly way – but his spiritual existence is, at least in his own mind, spiraling ever further down through the circles of hell.In one of the more frighteningly understandable images of the book, Scobie sees himself as fisting god – not fighting in the abstract, but physically punching and damaging the flesh: It is an image which horrifies in its very physicality – and in the clarity of self-knowledge Scobie exhibits.Around this dying light flutter a whole cast of shadow-dwelling characters.Scobie's wife is damaged goods – her husband's incorruptibility has driven her to this god forsaken land so she has plunged into the superficialities of Catholic dogma – the ritual and the literal making her empty life fuller. She reads books and poetry – replacing any real inner life with printed words and borrowed sounds.She is not a fool – but it is her needs that keep what is left of their marriage alive – most of it died with a young daughter back in England. Her leaving to live in South Africa opens the gap needed for a replacement 'needer' – and the final human dilemma that shatters Scobie's relationship with the divine.Wilson, spy-on-his-own-kind, and writer of trash poetry; driving Scobie no more than a mosquito could - tolerated as a fact of the environment – in 'love' with Scobie's wife and emptying the word of all depth.Helen, fallen woman and siren – who is no more than a vessel the fates use to trap Scobie – from her very first appearance as love-less, dried-skin of a girl clutching a stamp-album to near-whore for the ex-pat wild boy.A priest who knows he serves no one well – least of oll Scobie; a priest who needs to confess as much as to listen to confession – but perhaps the only one who sees the real relationship of Scobie to his god – who appreciates the complexities and ultimate unknowability of any meaning in life.These moths flicker in and out of the life that is Scobie – contrasting their weaknesses with the immense strength he is using in his 'psychomachia' – his soul-struggle.Scobie is ultimately heroic – in his choice and in facing of the consequences of that choice. He is very much a 20th Century man – having both the consciousness and anxiety William Golding identified as hallmarks in the work of Graham Greene.
Review by emmakendon
16/06/2015
I picked this up because I hadn't yet read it, and fancied reading something set in Sierra Leone prior to a trip there in May 2011. However, as Orwell said, the whole thing might as well be happening in a London suburb. Well, nearly. The rats are as big as rabbits and vultures hop about, the Bedford Hotel was still standing (real name - the City Hotel, and sadly this post-colonial building was pulled down in 2010), corruption and lies are everywhere, and there are small boys as servants, mammies, a naked-breasted girl walking down the road, a shady brothel, jiggers and the rainy season. The Brits complain about the weather before and during the rains - though there's no insight into the locals' feelings on the matter.As for the book itself and its plot, I found it touching, but Scobie was just that bit too elusive for me and I couldn't pin down his motivations. He was damned aggravating though. The death of poor Ali was a real shock and Yusef a fascinating character, but in a way I felt Louise, Scobie's wife, was dealt with rather brutally by Greene following that - although there, I didn't live in those times.Some of Scobie's thoughts and observations I really did enjoy - finding God too accessible "Looking up at the cross he thought, He even suffers in public". It was at this point, in Book 2, Part 2, where for me the characters, especially Scobie, really started to take flight. His awful patronising view of Helen: "how could anyone lay the responsibility for any action, he thought, on this stupid bewildered child?", and the apparent need she had of him because "the beautiful and the graceful and the intelligent could find their own way" - a need he wasn't up to fulfilling - were really vivid, and chimed brilliantly with everyone else's view of Scobie who couldn't keep a secret to save his life.I also enjoyed poor Harris, old Downham schoolfellow of Wilson's. As he reflects on his school years and begins to relive how miserable he was there, "He felt the loyalty we feel to unhappiness - the sense that that is where we really belong" - made me smile at us humans, especially at the young English schooled humans!But it was agonising watching Scobie fail to sort out his affairs, struggling and confusing Helen as to whether to call it a day or not: "Virtue, the good life, tempted him in the dark like a sin", and the wonderful logic which means he can't 'abandon' her for goodness, for God: "Would a woman accept the love for which a child had to be sacrificed?" Depends what, or how long-lasting, sacrifice - the melodramatic ol' damnation-believing bugger doesn't ask himself! Great stuff! Especially as the pendulum swings and a few hours later a few aspirin are what he needs for his banal predicament.And then the sad, inevitable crumbling of the affair: the confessional advice to stay away, which means leaving behind "that moment of peace and darkness and tenderness and pity 'adultery'". It's this that does make me wonder why I haven't read more Greene, or have hurried it. I bought a biography of Greene at the same time as buying "The Heart of the Matter", which I will plunge into later this year.Next though,: an Osprey about The SAS and Operation Barras 2000 ,Raid No. 10 by Will Fowler, and Mariusz Kozik about the successful rescue of 11 British soldiers.
Review by Miguelnunonave
16/06/2015
The conflicts of the inner self, the frightening narrow-mindedness of the colonial society, the overwhelming African reality. Interspersed with reflections on religion and racism. My first book by Greene, but an author that I'm certainly keen on getting to know better.
Review by nmele
16/06/2015
In the late 1970s, I worked in Freetown for several months. Before I went, a number of people told me to read this book as the best possible introduction to Freetown. Greene wrote this novel in the mid-1940s after assignment as an intelligence officer in Freetown during the early part of World War II. In 1977, many of the background details were still the same, like the menu at the British Club (no longer called that then) and even the waiters seemed to be the ones whom Greene described. Until rereading "The Heart of the Matter," I remembered nothing of the plot but the descriptions of Freetown.