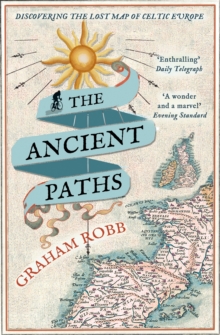 The Ancient Paths : Discovering the Lost Map of Celtic Europe
Paperback
Description
Graham Robb's new book will change the way you see European civilization. Inspired by a chance discovery, Robb became fascinated with the world of the Celts: their gods, their art, and, most of all, their sophisticated knowledge of science.
His investigations gradually revealed something extaordinary: a lost map, of an empire constructed with precision and beauty across vast tracts of Europe.
The map had been forgotten for almost two millennia and its implications were astonishing. Minutely researched and rich in revelations, The Ancient Paths brings to life centuries of our distant history and reinterprets pre-Roman Europe.
Told with all of Robb's grace and verve, it is a dazzling, unforgettable book.
Information
Format: Paperback
Pages: 400 pages
Publisher: Pan Macmillan
Publication Date: 03/07/2014
Category: European history
ISBN: 9780330531511
Free Home Delivery
on all orders
Pick up orders
from local bookshops
Reviews
Showing 1 - 1 of 1 reviews.
Review by Eyejaybee
27/08/2015
The general perception of the Celts has been as a fairly chaotic and peripatetic people, renowned for their hedonism rather than their inclination towards developing any lasting infrastructure. In this book Graham Robb strives to overthrow that view. It is not an easy book to read, and I was tempted to jump ship at various points, but I am glad that I persisted.The opening section focuses on the Heraklean Way, an ancient, dead straight route that stretches from the Atlantic coast of Spain, through the Pyrenees and on towards the Alps. This route follows, exactly, the bearing of the rising sun as seen on the summer solstice. Equally significantly, it is also the route followed by Hannibal in his attempt to invade Rome, complete with elephants.As Robb explores this route he makes a series of assertions, including that the Celts (or Gauls as he calls them) were expert surveyors, capable of designing and building arrow-straight roads under the influence of their astronomical observations.. He further asserts that most of the roads now ascribed to the Romans were actually originally created by the Gauls.He makes a number of these assertions, frequently with relatively little hard, supporting evidence. I found it all fascinating, but I did feel that there was a lot of hypothesising disguised as accepted fact. I remember, as a teenager, reading some of Erich von Daniken's books ('The Chariots of the Gods' and its fellow volumes, all now roundly discredited). There were times while I was reading this book when I wondered if Graham Robb might be the thinking man's Erich von Daniken. Overall, I think that is probably unfair - this book is, after all, very much better written that von Daniken ever managed - but it did try my patience.