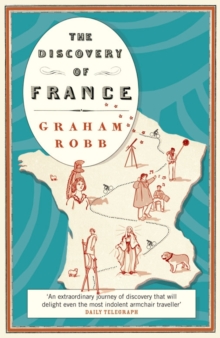 The Discovery of France
Paperback
Description
Illuminating, engrossing and full of surprises, The Discovery of France is a literary exploration of a country few will recognize; from maps and migration to magic, language and landscape, it's a book that reveals the `real' past of France to tell the whole story - and history - of this remarkable nation. `With gloriously apposite facts and an abundance of quirky anecdotes and thumbnail sketches of people, places and customs, Robb, on brilliant form, takes us on a stunning journey through the historical landscape of France' Independent `Certain books strain the patience of those close to you.
How many times can you demand: "Look at this! Can you imagine? Did you know that?" without actually handing over the volume?
This is such a book' Mail on Sunday `An extraordinary journey of discovery that will delight even the most indolent armchair traveller' Daily Telegraph
Information
Format: Paperback
Pages: 454 pages, Illustrations (some col.)
Publisher: Pan Macmillan
Publication Date: 04/07/2008
Category: European history
ISBN: 9780330427616
Other Formats
Paperback from £8.59
EPUB from £7.98
Hardback from £16.89
Free Home Delivery
on all orders
Pick up orders
from local bookshops
Reviews
Showing 1 - 3 of 3 reviews.
Review by sloopjonb
16/06/2015
An interesting and often entertaining tour through the byways of French social history, eschewing the boulevards and faubourgs of Paris for the obscure reaches of France profonde. Graham shows how the history of 'the provinces' has been consistently suppressed in favour of the history of Paris, and how much we think we know of France is actually only what we know of Paris.
Review by jon1lambert
16/06/2015
Told me a lot more about France and the French than any history book ever did. Discovering is not knowing, as the author states. A great chapter or two on the mapping of France.
Review by baswood
16/06/2015
This is not a guide book or a potted history of France aimed at the tourist or the casual visitor. Graham Robb has written biographies of Balzac, Victor Hugo and Rimbaud and is considered as an expert on France and its culture and in his introduction says that he has cycled 14000 miles and spent 4 years in libraries in preparation for the writing of The Discovery of France. Reading this book tells me that Robb is more comfortable in the library than in the saddle; it is a book written by an intellectual for a reader with some knowledge of France and its history. There are over 60 pages of notes and works cited, with more references to Victor Hugo than to cheese or wine (arguably more important to the average Frenchman)Robb says that his book can be read as a social and geographical history as a collection of tales and tableaux. This is most certainly the case however he achieves more than this. He carefully builds a picture for us English speakers of what it means to be french. He demonstrates how and why they think the way they do; he attempts to get into their psyche and in this he is largely successful. The majority of the book focuses on the 18th and 19th centuries and is organised by themes rather than a linear account of the social and geographical history. It is underpinned with Robb's contention that France is not a homogeneous nation; it never was and is not so today.Robb says that France is more a collection of individual pays, which in the past were separated by customs and toll barriers as well as language and today theses pays still lie just beneath the surface. In 1880 there were still only one fifth of Frenchman comfortable with speaking french and today there are still over 20 regional dialects recognised. France is shown until quite recently as an undiscovered country, undiscovered that is by the French. Huge difficulties were encountered in producing reliable maps with the Parisians largely unconcerned with the countryside away from the main arterial routes or beyond the suburbs of Paris. Transport is explored and again there was difficulties right up to the coming of the railways. France did not have an industrial revolution quite like that experienced in England. Any industry was fueled largely by migrant workers anxious to return to their pays as soon as it was financially viable. There were few heavily industrialised towns and where there were the local population were keen to move out to the countryside, their quality of life being much more important than amassing vast amounts of money. Robb is very good at highlighting local customs and has plenty of fascinating stories to tell; the stilt walking shepherds of les Landes, the search for the primitive Frenchmen in the new fashionable seaside resorts in Brittany, the child migrations to the cities in the second half of the nineteenth century. The darker side of the french Psyche is also explored; the tribalism that resulted in the pitched battles between villages, the fear and hatred of the Cagots in S W France, the actions of the Vichy government and more recently the massacre of the Algerians in Paris.The book is well written but it is not always easy to read. Robb's themed approach means that it is not always clear what links the thoughts and ideas and what period of history Robb is discussing. I would also suggest it is advisable to have a map of France handy if your geography is not up to scratch. I soon got used to the writing style and became enthralled with the main ideas and the many deviations that seemed to occur almost naturally. An invaluable book for those wishing to explore France and the french in more detail. The differences between French and English social history are used to great effect to demonstrate why the two races are so different. As an Englishman living in France I learned a great deal and some of the fog of local behaviour and customs have been lifted.