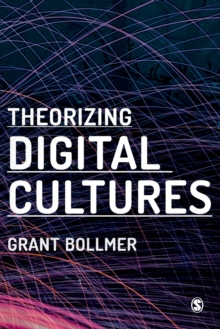 Theorizing Digital Cultures
Paperback / softback
Description
The rapid development of digital technologies continues to have far reaching effects on our daily lives.
This book explains how digital media-in providing the material and infrastructure for a host of practices and interactions-affect identities, bodies, social relations, artistic practices, and the environment. Theorizing Digital Cultures:Shows students the importance of theory for understanding digital cultures and presents key theories in an easy-to-understand wayConsiders the key topics of cybernetics, online identities, aesthetics and ecologiesExplores the power relations between individuals and groups that are produced by digital technologiesEnhances understanding through applied examples, including YouTube personalities, Facebook's 'like' button and holographic performersClearly structured and written in an accessible style, this is the book students need to get to grips with the key theoretical approaches in the field.
It is essential reading for students and researchers of digital culture and digital society throughout the social sciences.
Information
Format: Paperback / softback
Pages: 264 pages
Publisher: SAGE Publications Ltd
Publication Date: 13/10/2018
Category: Media studies
ISBN: 9781473966932
Also by Grant David Bollmer