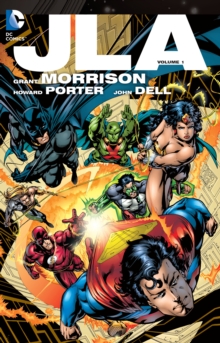 Jla Vol. 1
Paperback / softback
Description
Written by GRANT MORRISON and MARK MILLAR Art by HOWARD PORTER, JOHN DELL,OSCAR JIMENEZ and others Cover by HOWARD PORTER and JOHN DELL The legendary1990s JLA series written by comics mastermind Grant Morrison (FINAL CRISIS) withstunning art by Howard Porter and others is now collected in trade paperback,including issues #1-9 and JLA SECRET FILES #1. The action begins as the JLAreunites to stop the Hyperclan, who have come to Earth posing as a new group ofSuper Heroes.
But as their true nature comes to light, only the World'sGreatest Super Heroes can stop them!
Standing side by side, Batman, Superman,Wonder Woman, Aquaman, The Flash, Green Lantern and the Martian Manhunter takeon alien posers and come to realize that Earth needs a protectorate made up ofonly the mightiest icons.
This new trade paperback includes several issueswritten by Mark Millar (Kick-Ass, Ultimate Fantastic Four) that were notcollected in the hardcover JLA DELUXE EDITION series.
Information
Format: Paperback / softback
Pages: 256 pages
Publisher: DC Comics
Publication Date: 28/09/2011
Category: Superheroes
ISBN: 9781401233143