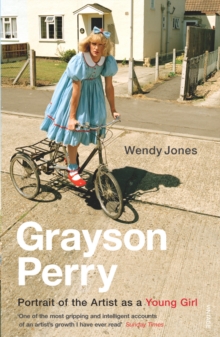 Grayson Perry : Portrait of the Artist as a Young Girl
Paperback
Description
Every inch of Grayson's childhood bedroom was covered with pictures of aeroplanes, and every surface with models.
Fantasy took over his life, in a world of battles ruled by his teddy bear, Alan Measles.
He grew up. And in 2003, an acclaimed ceramic artist, he accepted the Turner Prize as his alter-ego Clare, wearing his best dress, with a bow in his hair.
Now he tells his own story, his voice beautifully caught by his friend, the writer Wendy Jones.
Early childhood in Chelmsford, Essex is a rural Eden that ends abruptly with the arrival of his stepfather, leading to constant swerving between his parents' houses, and between boys' and women's clothes.
But as Grayson enters art college and discovers the world of London squats and New Romanticism, he starts to find himself.
At last he steps out as a potter and transvestite.
Information
Format: Paperback
Pages: 208 pages
Publisher: Vintage Publishing
Publication Date: 04/01/2007
Category: Ceramics: artworks
ISBN: 9780099485162
Free Home Delivery
on all orders
Pick up orders
from local bookshops
Reviews
Showing 1 - 3 of 3 reviews.
Review by LyzzyBee
16/06/2015
LibraryA short and quick to read biography of Grayson Perry, the artist who won the Turner Prize for his decorated vases, and dresses as his alter-ego, Claire, in little girls' outfits. It's mainly dictated to his friend Wendy, who then edited the book, so it has a freshness and immediacy which is very refreshing and means that the somewhat controversial subject matter isn't treated pruriently or inappropriately. It's fascinating to see Perry's development as an artist (the book takes him up to age 22), from thinking of art as a day job to attend, to "living" his art, and the insights into transvestism and, particularly, the Beaumont Society, are also fascinating. A brave and honest person; I'd like to read more about his subsequent life, how he healed the wounds from his upbringing, and his opinions and work now.
Review by missizicks
16/06/2015
I like Grayson Perry. I like this book, too. He seems a very grounded individual. I hope there's a sequel, written when he's a grand old man who dresses as Claire all the time, pulling his trolley bag to the shops.
Review by SandDune
16/06/2015
I don't know how familiar Grayson Perry is to people outside the UK, but here he is a well known ceramic artist, who was awarded the Turner Prize in 2003 and who has presented a number of critically acclaimed programmes on TV and radio including the 2013 Reith Lectures. Of course, what everyone in the UK knows best about Grayson Perry is that he is a transvestite, frequently appearing as his alter ego Claire: a rather overgrown and middle-aged small girl wearing a frilly frock and with a bow in her hair.So this book (narrated by Grayson to Wendy Jones) tells the story of his life from his early childhood through school and art college to the time in his early twenties when he first discovered that pottery was for him. And to be honest it's not really a childhood or adolescence that you would wish on anyone: he mentions that he is estranged from his parents as an adult and it's clear why. From the time that his parents' marriage collapsed when his mother discover that she was pregnant by the milkman (I thought that only happened in sitcoms) to being told by his violent and abusive stepfather not to come back when he left for college at the age of 18, there was certainly very little love or support shown by either parent. The portrait of his mother makes me wonder, not for the first time, why some people have children and then spend the rest of their lives being so uninterested in them.And of course Grayson's childhood was complicated by his growing realisation of his transvestism: not a very acceptable lifestyle choice for adolescents in an Essex town in the 1970's. And, to be honest, it's not a lifestyle that I'd previously given much thought to, so this part was quite enlightening, to say the least.Overall, an honest and thought-provoking memoir, from someone who always comes over as being an honest and likeable person. Just having listening to some of Grayson Perry's Reith Lectures though, I was expecting a little bit more somehow, but worth reading none the less.