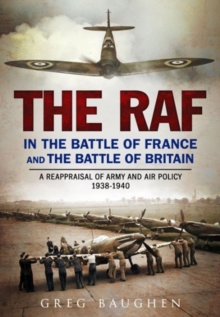 The RAF in the Battle of France and the Battle of Britain : A Reappraisal of Army and Air Policy 1938-1940
Hardback
Description
In May 1940, the opposing German and Allied forces seemed reasonably well matched.
On the ground, the four allied nations had more troops, artillery and tanks.
Even in the air, the German advantage in numbers was slight.
Yet two months later, the Allied armies had been crushed.
The Netherlands, Belgium and France had all surrendered and Britain stood on her own, facing imminent defeat.
Subsequent accounts of the campaign have tended to see this outcome as predetermined, with the seeds of defeat sown long before the fighting began.
Was it so inevitable? Should the RAF have done more to help the Allied armies?
Why was such a small proportion of the RAF's frontline strength committed to the crucial battle on the ground?
Could Fighter Command have done more to protect the British and French troops being evacuated from the beaches of Dunkirk?
This study looks at the operations flown and takes a fresh look at the fatal decisions made behind the scenes, decisions that unnecessarily condemned RAF aircrews to an unequal struggle and ultimately ensured Allied defeat.
What followed became the RAF's finest hour with victory achieved by the narrowest of margins. Or was it, as some now suggest, a victory that was always inevitable?
If so, how was the German military juggernaut that had conquered most of Europe so suddenly halted?
This study looks at the decisions and mistakes made by both sides.
It explains how the British obsession with bomber attacks on cities had led to the development of the wrong type of fighter force and how only a fortuitous sequence of events enabled Fighter Command to prevail.
It also looks at how ready the RAF was to deal with an invasion.
How much air support could the British Army have expected?
Why were hundreds of American combat planes and experienced Polish and Czech pilots left on the sidelines? And when the Blitz began, and Britain finally got the war it was expecting, what did this campaign tell us about the theories on air power that had so dominated pre-war air policy?
All these questions and more are answered in Greg Baughen's third book.
Baughen describes the furious battles between the RAF and the Luftwaffe and the equally bitter struggle between the Air Ministry and the War Office - and explains how close Britain really came to defeat in the summer of 1940.
Information
Format: Hardback
Pages: 288 pages
Publisher: Fonthill Media
Publication Date: 26/05/2016
Category: British & Irish history
ISBN: 9781781555255
Free Home Delivery
on all orders
Pick up orders
from local bookshops