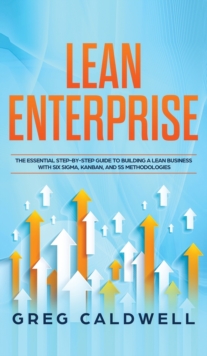 Lean Enterprise : The Essential Step-by-Step Guide to Building a Lean Business with Six Sigma, Kanban, and 5S Methodologies (Lean Guides with Scrum, Sprint, Kanban, DSDM, XP & Crystal)
Hardback
Description
Are you looking for ways to eliminate wastes in your workflow?
Are you having trouble figuring out how everything fits together in your business? Do you want to focus on producing only the best results at every phase of the production line? Perhaps, most importantly, are you thinking of eventually teaming up with like-minded companies to create something that ultimately changes the world for the better?
If you've answered yes to all of these questions, then this book may have what you need to fulfill all of your business goals.
All too often, many people are running their businesses without any regard for the work process and the customer. The only thing that's important to them is their end goal: to earn massive profits.
When you're too focused on sales and numbers, you won't be able to create the kind of product that earns your customers' lifetime loyalty. It will keep you from seeing that the seemingly effective workflows that you've always used are largely wasteful and inefficient.
Fortunately, going lean can help you change all of that.
Lean is a customer-centric approach that aims to meet customer demands exactly at their moment of need. While it may sound altruistic on the surface, putting a higher regard on the customer ultimately means better income for your business. By making them your top priority, your company wouldn't end up being a one-hit wonder that never truly understood what the market needs in the first place.
Here are a few things that you can get from this book:
How lean thinking transforms businesses
How to identify wastes in your current workflow
How shifting to lean can be worth it
Proven methodologies for going lean
And much more
Now, you may be wondering whether lean is actually better than your current system. After all, when things are going well enough in your business, why is there a need for change? Thing is, even if things are going perfectly, there will always be that one thing that you can improve on.
A simple assessment of your workflow can be all it takes to make your entire system a lot more efficient. Just imagine how much more you can do when you have it all figured out. If you think that everything is already fine as it is, lean will make you realize that the future can always be better than yesterday.
The changes that you need to implement are all in your hands. Transform your business into a lean machine and watch your workforce deliver the quality products that you've always wanted to be known for!
What are you waiting for? Scroll up and click "Buy Now" today!
Information
Format:Hardback
Pages:106 pages
Publisher:SD Publishing LLC
Publication Date:27/01/2020
Category:
ISBN:9781951754457
Other Formats
Paperback / softback from £12.35