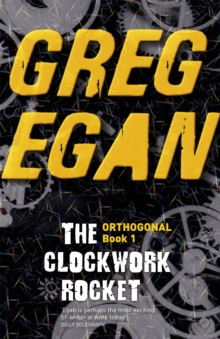 The Clockwork Rocket : Orthogonal Book One
Paperback
Description
In Yalda's universe, light has mass, no universal speed, and its creation generates energy; on Yalda's world, plants make food by emitting light into the dark night sky. And time is different: an astronaut might measure decades passing while visiting another star, only to return and find that just weeks have elapsed for her friends.
On the farm where she lives, Yalda sees strange meteors that are entering the planetary system at an immense, unprecedented speed - and it soon becomes apparent that more of this ultra-fast material is appearing all the time, putting her world in terrible danger.
An entire galaxy is about to collide with their own.
There is one hope: a fleet sent straight towards the approaching galaxy, as fast as possible.
Though it will feel like weeks back home, on board, millennia will pass before the collision, time enough to raise new generations, and time enough to find a way to stop the ultra-fast material.
Either way, they have a chance to save everyone back on the home world.
Information
Format: Paperback
Pages: 384 pages
Publisher: Orion Publishing Co
Publication Date: 01/08/2012
Category: Science fiction
ISBN: 9780575095144
Free Home Delivery
on all orders
Pick up orders
from local bookshops
Reviews
Showing 1 - 1 of 1 reviews.
Review by AlanPoulter
16/06/2015
This is a really hard book to review. First, I must be honest and reveal that parts of it passed me by. With science fiction there should be challenging scientific ideas that play a big part in the plot. Usually I cope fine but this time I had problems.Second, not withstanding what I have just written, I really enjoyed this novel. Like no other novel I can think of, this novel really is 'science fiction', that is fiction about science, which works in ways that follow laws that can be proven by experiment. So why did this novel cause me difficulties?A quick flip through the pages of this novel will reveal some 'very non-novelish' diagrams etc.In the universe depicted in this novel, the laws of science are not our laws. The intelligent race depicted are not like us in biology, but do share our desire to be more than animals and learn to understand how reality works. So this is 'real' science fiction, where everything needs to be questioned as it is set in a fictional 'real' alternate universe with different laws. Along with a different universe, the aliens are truly alien, six limbed shapeshifters, with eyes front and back, that emit light. They can 'write' characters on their skin.They reproduce by the mother being divided into four - two twin pairs, each usually forming a new reproducing couple, though there are the occasional 'solos', women that avoid their twin and take hollin, a drug that suppresses the splitting process. Men look after the children. The main character in the novel is Yalda who is a solo. While her outcast status causes problems for her, her raw intellectual desire for knowledge sees her discovering the local physics step by step via a striing of ingenious experiments, and she does not stop until she has defined the first comprehensive set of physical laws for her universe.With that done, what next attracts her attention is the threat to her civilization from 'hurtlers', giant asteroids. This novel is about her 'solution' to the hurtlers, which is audacious in the extreme since the level of technology available is medieval. The title of this novel gives a strong clue here...Finally, strangely for such a dry,'theoretical' novel, the plight of these aliens is touching. And this is another surprise from such an apparently dry novel, in that it manages to engage the reader on an emotional level, as well as an intellectual one.
Also in the Orthogonal series | View all