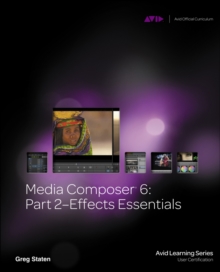 Media Composer 6 : Part 2 Effects Essentials
Mixed media product
Description
MEDIA COMPOSER 6: PART 2-EFFECTS ESSENTIALS is for video editors who understand the basics of the editing tools in Media Composer and are ready to move ahead and learn the fundamentals of compositing within Avid Media Composer 6, the non-linear film/video editing application used in most movie and television productions.
This book/DVD combo, an official Avid Learning Series User Level guide, provides a solid foundation in Media Composer audio and video effects capabilities and, in conjunction with Media Composer 6: Part 1-Editing Essentials, will prepare you for Avid's User Level certification in Media Composer 6.
You will be taken through the basic effects-building interface; then, using a real-world, hands-on approach, you'll learn fundamental audio adjustments and effects, multilayered video compositing, tracking, stabilization, various retiming methods, and basic color-grading techniques.
This official training course is a crucial step in mastering Avid Media Composer, the standard editing system used by professionals in the film and television industries.
MEDIA COMPOSER 6: PART 2-EFFECTS ESSENTIALS is part of the Avid Learning Series.
To find more books on Media Composer, Pro Tools, Sibelius, or any other Avid product, visit www.courseptr.com/avid.