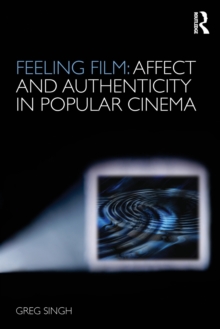 Feeling Film: Affect and Authenticity in Popular Cinema
Paperback / softback
Description
Cinema has the capacity to enflame our passions, to arouse our pity, to inspire our love.
Feeling Film is a book that examines the emotional encounters found in contemporary popular cinema cultures.
Examining melodrama, film noir, comic book franchises, cult indie movies and romantic comedy within the context of a Jungian-informed psychology and contemporary movements in film-philosophy, this book considers the various kinds of feelings engendered by our everyday engagements with cinema. Greg Singh questions the popular idea of what cinema is, and considers what happens during the anticipation and act of watching a movie, through to the act of sharing our feelings about them, the reviewing process and repeat-viewing practices.
Feeling Film does this through a critique of purely textual approaches, instead offering a model which emphasises lived, warm (embodied and inhabited) psychological relationships between the viewer and the viewed.
It extends the narrative action of cinema beyond the duration of the screening into realms of anticipation and afterlife, in particular providing insight into the tertiary and participatory practices afforded through rich media engagement.
In rethinking the everyday, co-productive relationship between viewer and viewed from this perspective, Feeling Film reinstates the importance of feelings as a central concern for film theory.
What emerges from this study is a re-engagement of the place of emotion, affect and feeling in film theory and criticism.
In reconsidering the duration of the cinematic encounter, Feeling Film makes a significant contribution to the understanding of the inter-subjective relationship between viewer and viewed.
It takes post-Jungian criticism into the realms of post-cinema technologies and reignites the dialogue between depth psychology and the study of images as they appear to, and for, us.
This book will make essential reading for those interested in the relationship between film and aspects of depth psychology, film and philosophy students at advanced undergraduate and postgraduate levels, film and cinema academics and cinephiles.
Information
Format: Paperback / softback
Pages: 252 pages
Publisher: Taylor & Francis Ltd
Publication Date: 23/01/2014
Category: Film theory & criticism
ISBN: 9780415496360