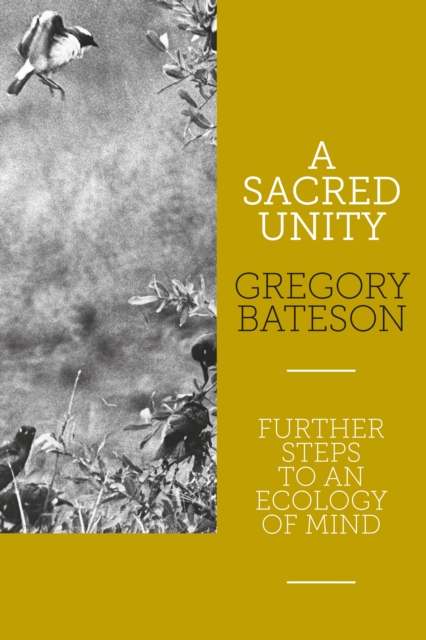 A Sacred Unity : Further Steps to an Ecology of Mind
Paperback / softback
Description
Gregory Bateson died in 1980, but his work grows more and more relevant each year.
In his wide-ranging, penetrating thought he illuminated many dimensions of human interaction and of our connection to the wider biological world. One of the questions that runs through this book is "how to describe a living system without killing it?" This starts early with Bateson's anthropological work on culture, and runs through into ecology, identity, change, evolution and learning.
How to talk about these things - and organisms that are experiencing them - without resorting to typologies?The sacred and its relationship to a description of ecology is foremost.
As are the puzzles of being an individual in culture in a whole vast collection of biological relationships and cultural idea-relationships - and how to bring all of those into the field of ecology. The answer to the question "what is the world?" is "it's what I perceive it to be." And the question of what I perceive is only going to begin to have some looseness in it, when the question is asked: "Are you perceiving the world, or are you perceiving your perception?" Perhaps this question is the beginning of the possibility of loosening the matrix. When Bateson talks about coevolution - the way that the grass changes when the horse changes, and the horse changes as the grass changes, along with multiple other organisms - there is change taking place so that they can stay in relationship.
But in order to continue the relationships all the organisms have to change.
In order to change, they have to be able to have a perception shift. And yet, it should be impossible. It should be that the organisms can only do what the organisms do. And a horse is a horse, and the grass is the grass. But life shows us again and again, things change. In fact, that is the basis of continuing to be alive in an ecology; to change.
Continuing requires discontinuing. Many of the articles in this book are about 'wiping your glosses' - the glosses that accumulate in psychiatry, anthropology, ecology, education, and getting to see a little bit more clearly, which always means seeing relationship and always means seeing parts and wholes encompassed within bigger wholes. As he develops his theory of evolution he says it's not the individual organism or species that evolves.
It's the organism-plus-the-environment that evolves. This book is a forest of ideas explored though many careful visits. Order, change, learning, health, harm, perception ... what is it to be alive? Each chapter is full of the rigor of someone who does not want to underestimate the lifeforms in view and knows that many more life-processes are present, but not (yet) perceivable.
There is room in these pages to allow the overlaps and the understories to tangle and seep between the chapters and let them describe each other.
There is not an agreed upon way to understand this work, each reader will find their own way through within their own experiences. And the next time you read it, you will find that either the chapters or you have changed again...
Information
Format:Paperback / softback
Pages:376 pages, 20 black and white illustrations
Publisher:Triarchy Press
Publication Date:30/06/2023
Category:
ISBN:9781913743796
Information
Format:Paperback / softback
Pages:376 pages, 20 black and white illustrations
Publisher:Triarchy Press
Publication Date:30/06/2023
Category:
ISBN:9781913743796